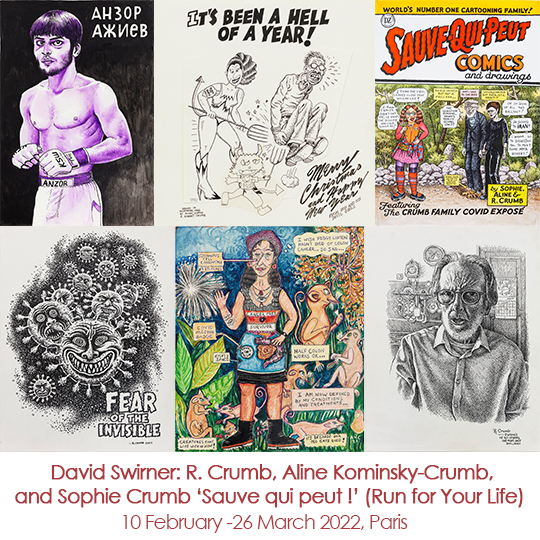 presented by

David Zwirner: R. Crumb, Aline Kominsky-Crumb, and Sophie Crumb 'Sauve qui peut !' (Run for Your Life)
Published by Sugar & Cream, Thursday 24 February 2022
Images courtesy of David Zwirner
10 February -26 March 2022, Paris
David Zwirner is pleased to present an exhibition of works by R. Crumb, Aline Kominsky-Crumb, and Sophie Crumb, on view at the gallery's Paris location. This will be the first major joint presentation of husband and wife Crumb and Kominsky-Crumb and their daughter, Sophie Crumb—who have all lived in France for the past thirty years—since the 2007 exhibition La Famille Crumb at Le Musée de Sérignan (now Musée régional d'art contemporain Occitanie), France.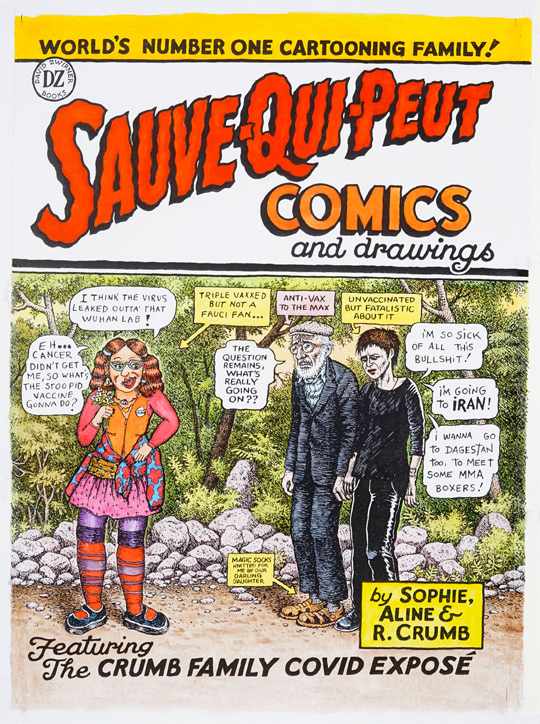 Aline Kominsky-Crumb, R. Crumb, and Sophie Crumb, Sauve-Qui-Peut Comics and Drawings, 2022
© Aline Kominsky-Crumb, R. Crumb, and Sophie Crumb, 2022
Courtesy the artists, Paul Morris, and David Zwirner
By the time they met in 1971, Aline Kominsky-Crumb and R. Crumb had each already established themselves at the forefront of the underground comics scene: Kominsky-Crumb with her autobiographical comics that appeared in the influential all-female anthology Wimmen's Comix, and Crumb with his genre-defining comic strips of the 1960s and early 1970s like Fritz the Cat, Mr. Natural, and Keep on Truckin'. As pioneering graphic artists, the two have maintained their own distinctive practices while also frequently collaborating on projects such as Aline and Bob's Dirty Laundry Comics (1974) and, more recently, Bad Diet & Bad Hair Destroy Human Civilization (2020). Like her parents, Sophie Crumb, who was born in 1981, is recognized for her singular graphic style that trenchantly reflects on her life, her family, and French and American society and culture, all filtered through her own unique generational lens.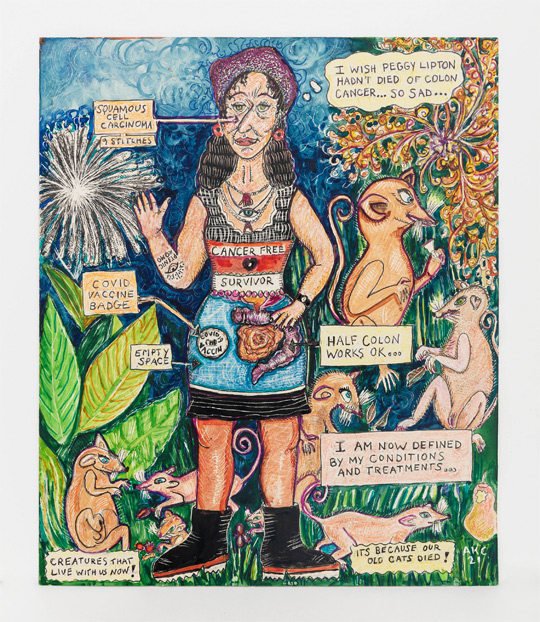 Aline Kominsky-Crumb, Self Portrait (Cancer-free Survivor), 2021
© Aline Kominsky-Crumb, 2022
Courtesy the artist, Paul Morris, and David Zwirner
Though Kominsky-Crumb and Crumb are icons of American counterculture, since 1991 the family has lived in and around the small town of Sauve, in the south of France. Their move was precipitated by their increasing distaste for the reactionary politics and suburban yuppie culture of the United States in the 1980s. Since their arrival, and in large part due to their presence, the quaint town has become something of a refuge for expats, artists, and other free spirits. As a young adult, Sophie spent time in New York and Paris, but she eventually returned to southern France, and today lives near Sauve with her own family.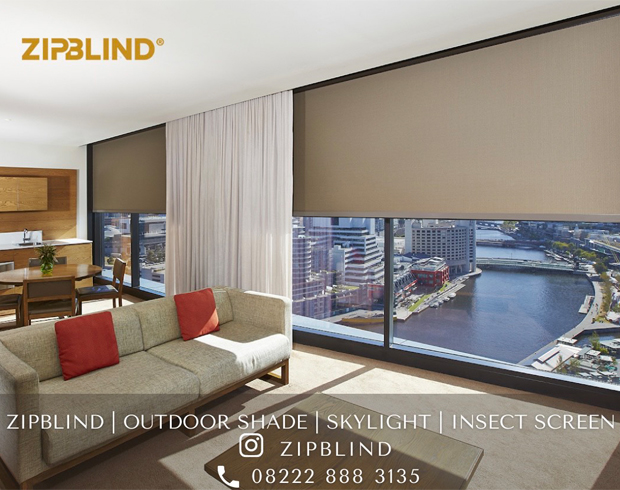 Presented by Zipblind
This exhibition will feature both new and past individual and collaborative works by this prodigious family of artists. Focusing on works made since their move to France, it will offer viewers a rare opportunity to see their stylistic and conceptual links as well as the ways in which all three have forged their own artistic paths.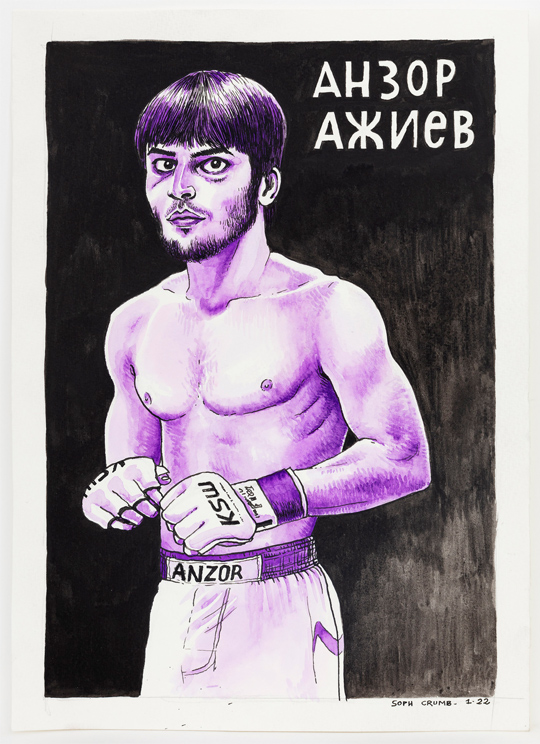 Sophie Crumb, Untitled (Anzor), 2022
© Sophie Crumb, 2022
Courtesy the artist, Paul Morris, and David Zwirner
Though often humorous, many of the collaborative works probe the nature of the artists' relationships with each other, tackling serious topics such as motherhood, abortion, and sex, while others address more mundane concerns like constipation. One collaboration by all three artists from 1992—when Sophie was only eleven years old—humorously addresses the dynamics prompting the family's departure for France. In one panel, Crumb says, "I never know what to tell people when they ask me why we're moving to France," to which Kominsky-Crumb responds a few panels later, "Lousy school, too much crime, schluburban sprawl, media overload … flags … baseball caps … self-help groups, shit … I dunno…. No real reason!" Another more recent collaboration, Crumb Family Covid Exposé (2021), reflects on how the COVID-19 pandemic has impacted the family's behaviors and actions and their differing views and responses to it.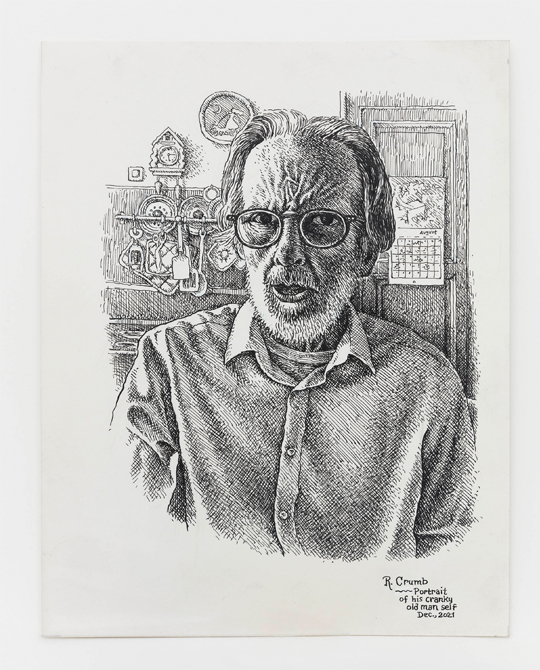 R. Crumb, R. Crumb's Portrait of His Cranky Old Man Self, 2021
© Robert Crumb, 2022
Courtesy the artist, Paul Morris, and David Zwirner
Among the individual works done by the artists are several recent and past portraits and self-portraits by Kominsky-Crumb—some raucously caricaturish and others more formalistic and probing—which show the range of the artist's approach to drawing herself and her subjects. Likewise, Sophie Crumb's portraits and illustrations vary from surreal, naturalistic drawings that highlight her skills as a draftsman—her drawings often utilize much more shading and chiaroscuro than her parents' work, lending them a noirish and theatrical quality—to more exaggerated and comical portrayals. Several drawings from some of R. Crumb's celebrated series will be on view such as Mr. Natural and Kafka for Beginners, as well as new works in which the artist continues to turn a mirror on contemporary social and political conditions, such as Fear the Invisible (2021), a drawing depicting anthropomorphized COVID viruses grinning maniacally.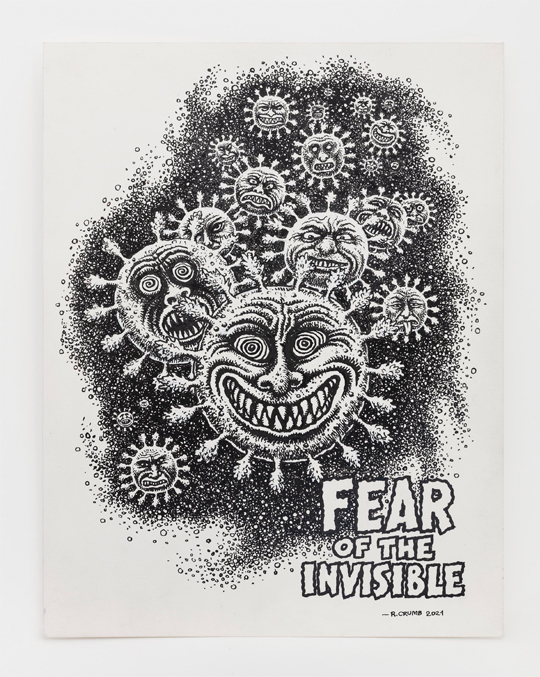 R. Crumb, Fear the Invisible, 2021
© Robert Crumb, 2022
Courtesy the artist, Paul Morris, and David Zwirner
On the occasion of the exhibition, the Crumbs will also publish a new zine featuring illustrations from the show.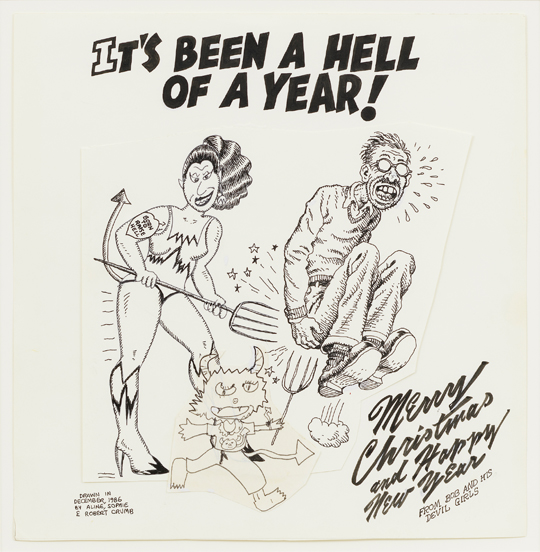 Aline Kominsky-Crumb, R. Crumb, and Sophie Crumb, It's Been A Hell Of A Year!, 1986
© Aline Kominsky-Crumb, R. Crumb, and Sophie Crumb, 2022
Courtesy the artists, Paul Morris, and David Zwirner