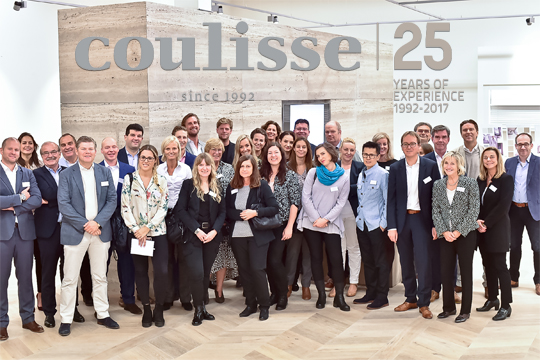 presented by

Coulisse, Netherlands – Coulisse's 25th Anniversary
Published by Sugar & Cream, Monday 20 November 2017
Text by JW, Images courtesy of Coulisse and S&C
A Sustainable Growth and The Drive to Become the Best
Sejak berdirinya tahun 1992 Coulisse sebagai sebuah perusahan internasional pemasok  window covering hingga menjelang usianya ke 25 tahun bulan Oktober 2017 lalu, Coulisse dibawah pimpinan Christian Roetgering, pendiri Coulisse dan adiknya Maurice Roetgering, berkembang pesat sebagai pemain global yang masif dan inovatif dalam bisnis window covering. Bahkan saat ini  Coulisse menyediakan rangkaian lengkap dan solusi canggih dengan koleksi window covering-nya. Bisnis Coulisse berkembang hingga tersedia kurang lebih di 85 negara termasuk Indonesia.
Penulis mendapat kehormatan untuk menghadiri serunya perayaan 25 tahun Coulisse di Enter, Netherlands pada tanggal 12 Oktober lalu. Perkenalan penulis dengan label Coulisse berawal dengan kehadiran resmi Coulisse Indonesia dibawah PT. Imaji Nata Kirana  dipimpin oleh Jenfilia Suwandrei Arifin sebagai Director Coulisse of Indonesia.
Simak artikel Soft Launch Event of Coulisse Indonesia di sini.
Simak artikel Welcoming Coulisse in Jakarta di sini

Acara 25 tahun kiprah Coulisse sebagai pemain global window covering disaksikan oleh sejumlah journalis yang didundang dari beberapa negara seperti Indonesia diwakili oleh penulis, Jerman, Amerika, Inggris, Polandia, Spanyol dan Austria. Perayaan dimulai dengan perkenalan dengan pendiri dan jajaran tim management Coulisse di kantor pusat yang berada di kota Enter, sekitar 1.5 jam dari kota Amsterdam dengan mobil.
Yang menarik adalah fasad kantor pusat yang sangat modern dan  para journalis diberi kesempatan untuk melihat sebagaian ruangan didalamnya. Dari perkenalan berlanjut dengan beberapa presentasi singkat di beberapa tempat berbeda. Presentasi lebih ditekankan pada rencana selanjutnya Coulisse sebagai pemain global yang inovatif dalam industri window covering dari  premium, DIY (Do It Yourselft) hingga made to measure divisi.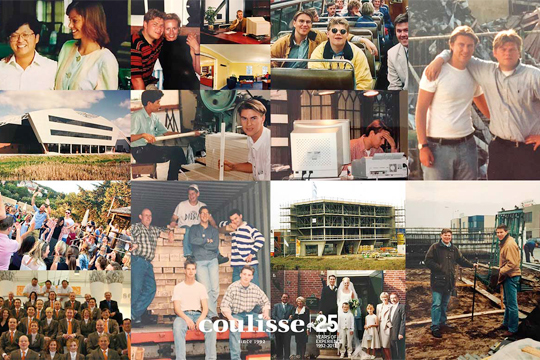 25 Years of Coulisse – collage
Tidak lupa juga diungkapkan tindak lanjut kepedulian sosial Coulisse terhadap lingkungan dan tanggung jawab sosial lainnya. Past Present. Future merupakan satu kesatuan yang tak terpisahkan bagi Coulisse yang terus bergulir positif dan berkembang dengan serangkaian inovasi dalam bisnis, pemasaran, solusi kian canggih untuk window covering hingga perihal kepedulian sosial yang kian dilirik tajam oleh dunia. Seberapa jauh dan intensif sebuah perusahan mendedikasikan  kepedulian sosialnya menjadi tanggung jawab penuh bagi sebuah perusahan dimata para konsumernya.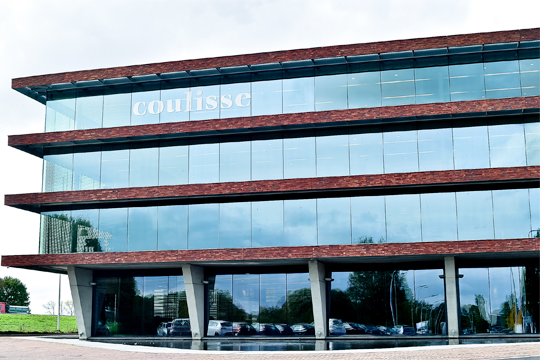 Coulisse Headquarter
Untuk memperkuat dan mempertanjam visinya, Coulisse memperkenalkan CEO baru yaitu Rob Boogaard.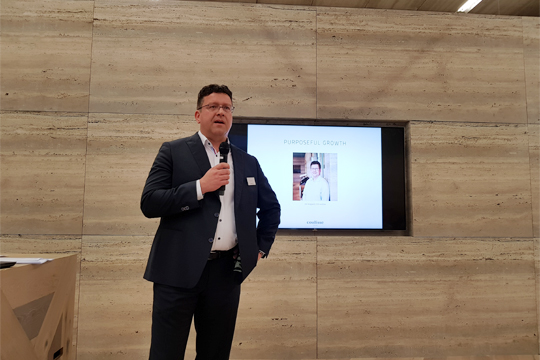 Rob Boogaard – Ceo Coulisse
Christian Roetgering: 'Coulisse has always been known for its innovational design approach. As a result, we have obtained a leading global position in the market. For us to stay leading in the future, we have to do more. Sustainability and social responsibility are key terms in this respect. This is where the world is headed. Rob is the perfect man to lead Coulisse through this transformation.'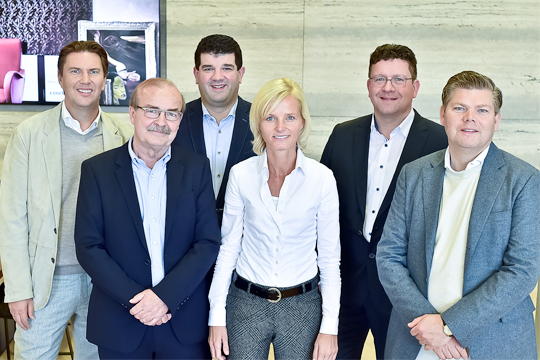 Management team Coulisse: Christiaan Roetgering (owner), Klaus Germes (consultant),
Hugo Kruijssen (Director Components), Nienke Dusseljee (Director DIY), Rob Boogaard (CEO) Maurice Roetgering (owner)
Semangat kinerja untuk terus berkembang dan berinovasi diperkuat dengan dibukanya divisi baru dan showroom baru yaitu Contract Experience Center (CEC) yang dikepalai oleh Jan Henk Dekker, contract interior specialist. CEC memiliki ruang sangat luas sebagai sarana display dan demonstrasi berbagai sistim penutup jendela dengan teknologi mumpuni hingga yang tercanggih.  Jan Hen Dekker sempat memperagakan beberapa jenis penutup jendela dengan efeknya meredam terpaan sinar masuk kedalam ruangan.  Seperti yang juga dikatakan oleh Christian Roetgering,'….. we see the contract market as the ideal platform for our sustainable growth strategy.'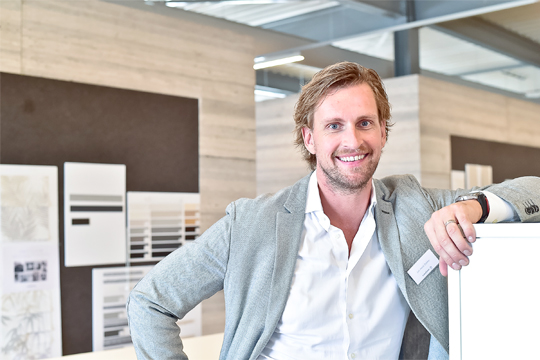 Jan Henk Dekker – General Manager Coulisse Contract
New Window Covering for 2018 and Collaboration for 2018 Campaign
Perayaan 25 tahun juga dimanfaatkan Coulisse untuk membocorkan rencana spektakulernya untuk tahun 2018. Bertepatan dengan ajang pameran bergengsi R+T 2018 (World's leading trade fair for roller shutters, doors/gates and sun protection systems ) di Stuggart, German, rencana spektakuler Coulisse dibeberkan cukup detail. Dari ruang pameran, tema produk terbaru, hingga bahan kampanye Coulisse yang digarap berkolaborasi dengan fotografer fashion ternama Jasper Abels ( Dior, Vogue, Glamour, Harper's Bazaar).
Komentar Catharina Idema, Head Designer Coulisse mengenai kolaborasi : 'Just like Jasper our creation process is inspired by fashion, art, architecture and nature. That is why it is so special to see Jasper's interpretation of our products. We are extremely curious to see the end result.'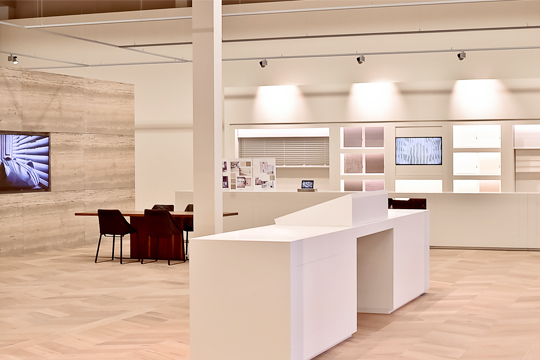 Contract Experience Center

Sebelumnya koleksi terbaru untuk 2018 telah dipresentasikan secara general yaitu terbagi menjadi 4 kelompok yaitu ; Serenity, Craft, Herbarium dan Decandence. Para journalis juga menyaksikan presentasi Jasper Abels untuk kampanye dengan Coulisse di 2018. Perjalanan bisnis selama 25 tahun hingga Coulisse tersedia di berbagai negara (sekitar 86 negara termasuk Indonesia) tidak diraih dalam waktu singkat.  Coulisse terus bergerak maju secara progresif menawarkan inovasi-inovasi baru yang mengawinkan fashion dan teknologi dalam kemasan yang cantik. Setiap produk baru dikemas dengan kampanye yang menguatkan pernyataan Coulisse dalam setiap aksinya untuk terus menjadi terbaik dalam bisnis window covering.  Seperti yang dinyatakan oleh Christian Roetgering, pendiri Coulisse yaitu 'the drive to become the best'
Perayaan 25 tahun Coulisse ditutup dengan kehangatan intimasi melalui makan bersama di sebuah restoran tua di kota yang sama.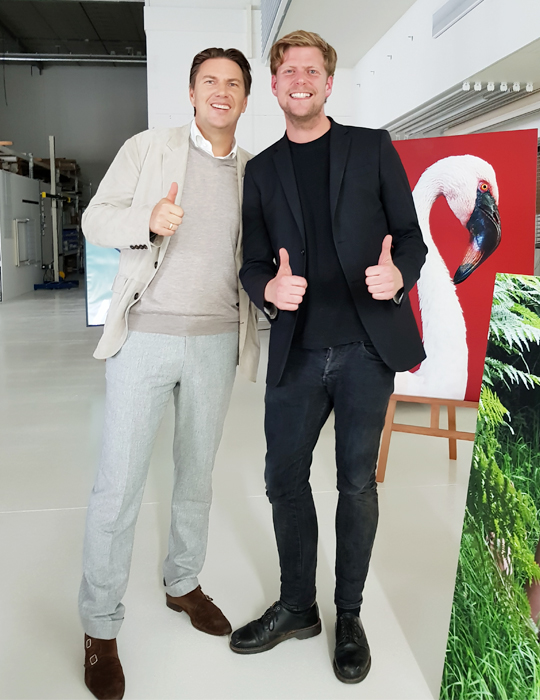 Christian Roetgering & Jasper Abels