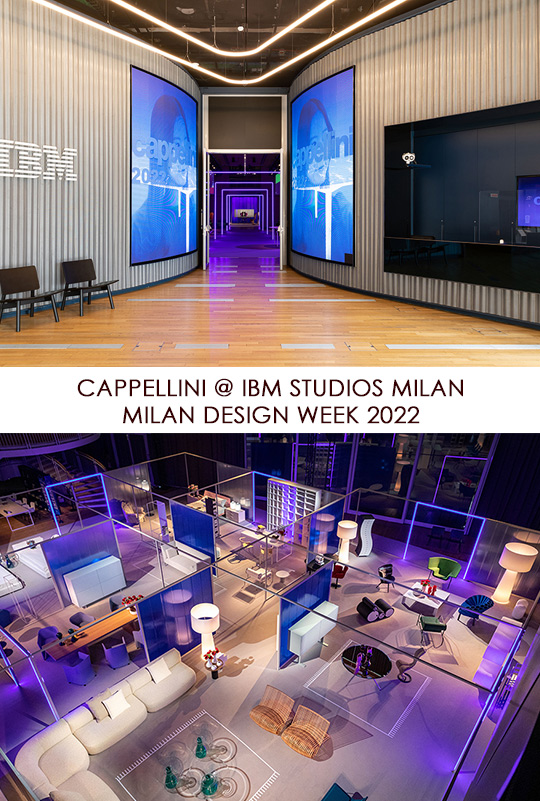 presented by

CAPPELLINI @ IBM STUDIOS MILAN – MILAN DESIGN WEEK 2022
Published by Sugar & Cream, Wednesday 03 August 2022
Images courtesy of Cappellini
Exploring the "Expanded Beauty" Project
Milan Design Week 2022 lalu, Cappellini menggelar pameran ganda di IBM Studios Pavilion di Piazza Gae Aulenti. Anda disuguhi pengalaman yang menarik, seperti perjalanan ke alam semesta estetika yang beragam, dan pandangan ke masa depan yang mengungkap diri melalui rumah yang seimbang antara materialitas dan immaterialitas. Dalam Looking to the future, jenama ini menceritakan visinya tentang produk kontemporer berkat interpretasi yang ditawarkan oleh berbagai materi iklan internasional, dengan objek yang dibenamkan dalam skenografi multisensor.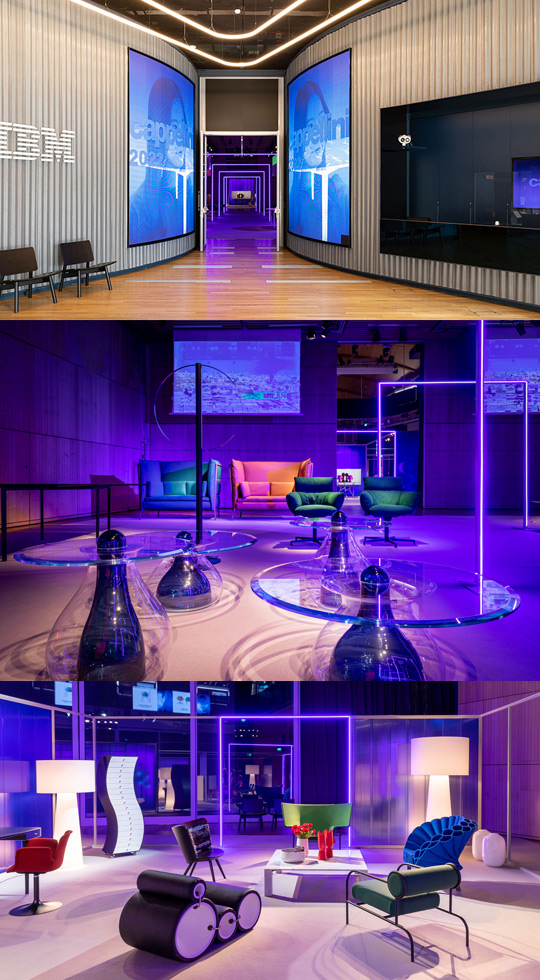 Simak virtual tour pameran ini di sini
Sebaliknya, Cappellini Slowdown Refuge, memiliki tema mengenai hunian di lingkungan di mana desain dan teknologi menyatu; di mana potongan ikonis menemukan pasangan estetika mereka dalam produk paling inovatif.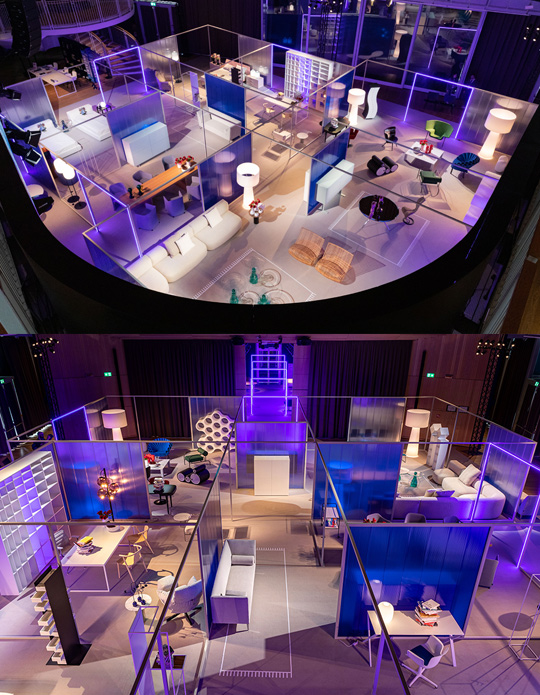 Presented by Interi Cipta Selaras
Looking to the future
Di dalam kotak panggung yang hanya dianimasikan oleh cahaya dan musik, Cappellini menawarkan produk-produk baru dari 2022 Collection. Ruang pameran ini menjadi tempat imersif di mana benda-benda, yang menampilkan 'kekakuan' formal yang ekstrem, memecahkan kode DNA jenama yang didedikasikan demi eksperimen. Sehingga mampu menceritakan multikulturalisme bahasa desain melalui 'penerjemah'-nya.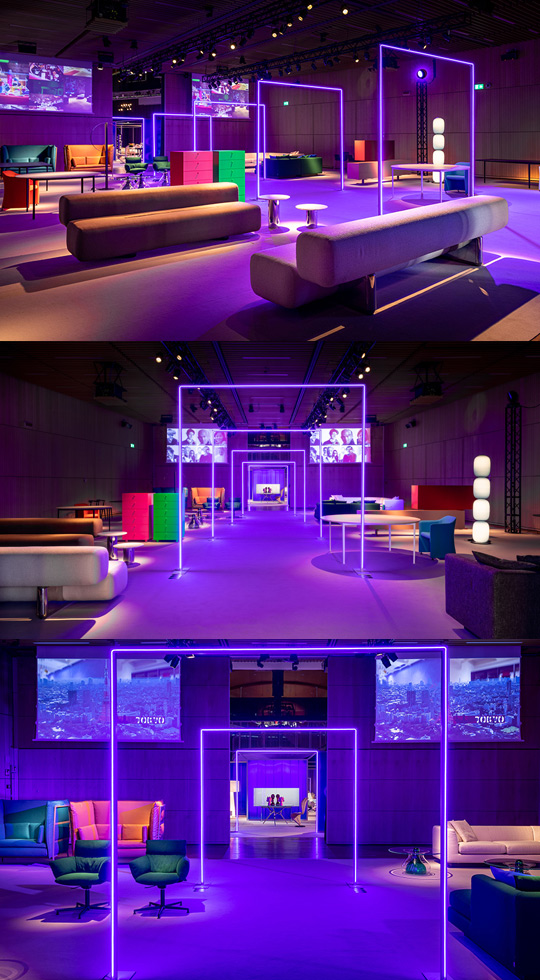 Slowdown Refuge
Proyek pameran Slowdown Refuge dapat diidentifikasi sebagai garis besar kehidupan kontemporer di mana rumah harus dipahami sebagai jembatan antara masa lalu dan masa depan, sebagai sarana komunikasi antara identitas intim yang ditemukan kembali dan hubungan sosial, tempat perlindungan yang melindungi tetapi juga sebuah viaticum ke luar. Ruang ini diterjemahkan oleh Giulio Cappellini dengan sangat ringan, bernuansa fun, namun sedikit warna. Dalam perkembangan ruang tematik, dari ruang tamu –  ruang makan, dari ruang belajar – ruang tidur, dan hingga ke outdoor, skenografi ini membawa serta refleksi bijaksana tentang sejarah dan kontemporer. Semuanya berkat dialog antara karya-karya ikonis, objek baru dan tonggak desain yang diciptakan kembali melalui warna baru. Penghargaan non-nostalgia untuk jenama internasional yang hebat dan penulis objek abadi. Di sini, Anda dapat menemukan karya Shiro Kuramata, Alessandro Mendini, Jasper Morrison, Marcel Wanders, Marc Newson, AG Fronzoni, Claudio Silvestrin, Jacob Wagner, Doshi Levien, Johan Lindstén, Piero Lissoni, Ronan dan Erwan Bouroullec, Nendo, Dror, Sebastian Herkner, dan Tom Dixon. "Slowdown Refuge" adalah Wunderkammer yang menyatukan proyek-proyek sekelompok talenta yang menciptakan timeless collection. Seperti hidden treasure yang dibuka untuk merayakan dunia oleh Cappellini.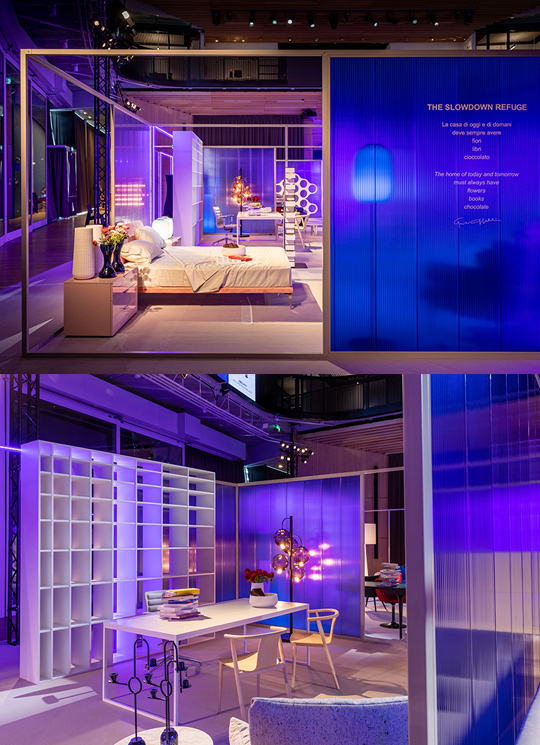 The new generations and the Metaverse
Di IBM Studios Pavilion, area pertemuan dan rekreasi telah dibuat dengan beberapa bagian simbolis oleh Cappellini. Yang dibintangi sebagai karakter utama dari dialog inovatif dengan proyek, dipamerkan secara virtual;  merupakan hasil kerjasama dengan mahasiswa internasional Master in Interior Design and Digital Art Direction of Marangoni Design Campus. Bersamaan dengan itu, karya alumni Istituto Marangoni tentang Metaverse bertema "Expanded Beauty" membayangkan rumah masa depan di luar angkasa. Ide tersebut lahir dari pertukaran pandangan antara Giulio Cappellini, sang desainer, art director, pencari bakat, dan pakar skenario masa depan. Sebuah karya yang menonjolkan jiwanya yang bebas dan berani, selalu mampu menelusuri jalan baru mulai dari pengamatan cermat terhadap fenomena sosial terkini dan tajam. Dengan perspektif desain yang kian inklusif, dan ada juga area ramah yang ditujukan untuk generasi No Code – generasi persilangan tanpa batasan usia, budaya, atau asal. (DB)