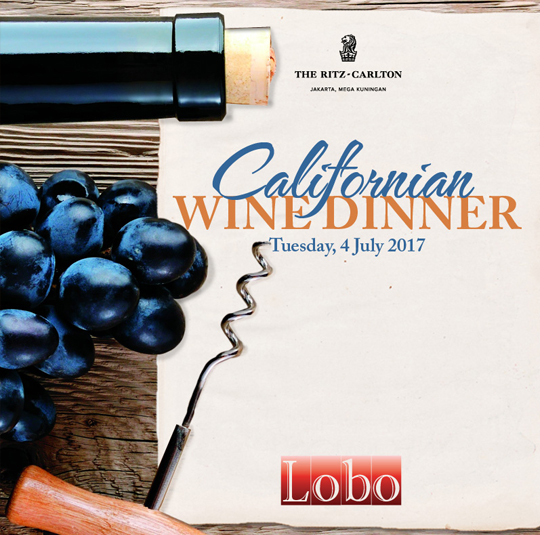 "Californian Wine Dinner" at Lobo Restaurant – The Ritz Carlton
Published by Sugar & Cream, Tuesday 04 July 2017
US Independence Day – Chef de Cuisine Jan Schwittalla 
Pengalaman kuliner dengan tantangan baru memang tak pernah habisnya untuk terus dieksplorasi. Akan selalu ada hal baru mengundang perhatian kita. Lobo Restaurant di The Ritz Carlton, Mega Kuningan  dalam rangka memperingati semangat US Independence Day pada tanggal 4 July 2017 nanti mengundang pencinta kuliner untuk menikmati hidangan lezat khas Chef de Cuisine Jan Schwittalla bertadjuk "Californian Wine Dinner".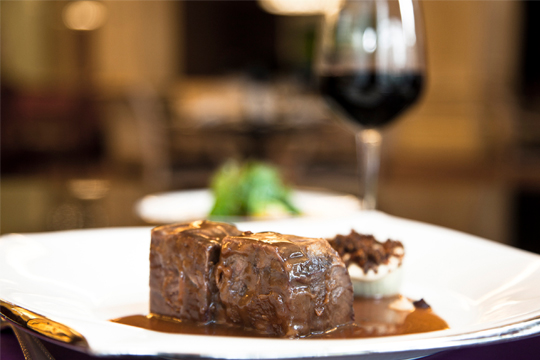 Beef Cheek pairs with Columbia Crest Merlot 2013
Setiap hidangan lezat tersebut akan disajikan dengan pilihan minunuman anggur terbaik dari California. Wine pairing sangat menantang karena setiap menu yang disajikan akan dipadukan dengan minuman anggur terbaik pilihan dari Oenologist. Pairing antara hidangan lezat dan minuman anggur terbaik ini diharapkan mampu meningkatkan cita rasa hidangan ketingkat yang lebih tinggi.


Semangat kemerdekaan diwujudkan dalam 4-course set kreasi chef ternama Jan Schwittalla. Mulai dari hidangan pembuka yaitu Egg Onsen (kentang, duxelles, truffle dan jamur porcini) disajikan dengan anggur Ortopon Pinot Noir 2013. Hidangan kedua berupa Black Crab Bisque (kari, kacang mede, jahe dan serai) dipadukan dengan anggur Migration Russian River Chardonnay 2013, Kemudian berlanjut dengan hidangan utama berupa Beef Cheek (ragout daging sapi dan bawang bombay) dengan pilihan anggur  terbaik Columbia Crest Merlot 2013. Makan malam Anda tidak akan sempurna tanpa hidangan penutup yang manis siap menguggah palet lidah Anda.  Maka sebagai penutup disajikan Chocolate Mousse (biskuit, stroberi coulis) yang dipadu dengan  anggur Decoy Zindafel 2014.
Menyajikan setiap hidangan dengan pilihan minuman anggur terbaik bukanlah hal yang mudah. Namun dengan jam terbang tinggi, prestasi yang terukir dan kolaborasi rasa yang sempurna, racikan 4-course set ala Chef de Cuisine Jan Schwittalla tidak perlu diragukan lagi. 'Californian Wine Dinner' disajikan mulai pukul 6 sore pada hari Selasa, 4 Juli 2017 dengan harga Rp 818.000 ++ per orang.
Bergegaslah reservasi sebelumnya. Untuk informasi dan reservasi selanjutnya, hubungi: 021 2551 8888/8380/8321 atau email: rc.jktrz.fb.festivedesk@ritzcarlton.com.