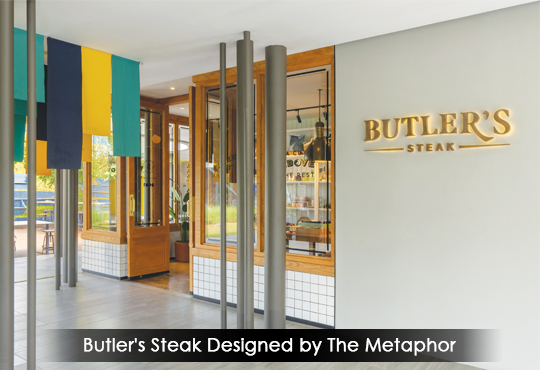 presented by
Butler's Steak Designed by The Metaphor
Published by Sugar & Cream, Wednesday 14 July 2021
Text by Dinda Bestari, Image courtesy of The Metaphor
Casual, Warm, Modern Industrial New York Look
Let's dig in, the coolest area in BSD presents one of the interesting culinary destinations with American Style! Sebagai desainer dari restoran Butler's Steak ini, Metaphor Interior Architecture melihat faktor utama yang perlu diperhatikan sebelum ''mentransformasi'' adalah lokasi dari Butler's Steak ini sendiri. Strategis, serta didukung dengan bangunan standalone yang memiliki view taman yang hijau.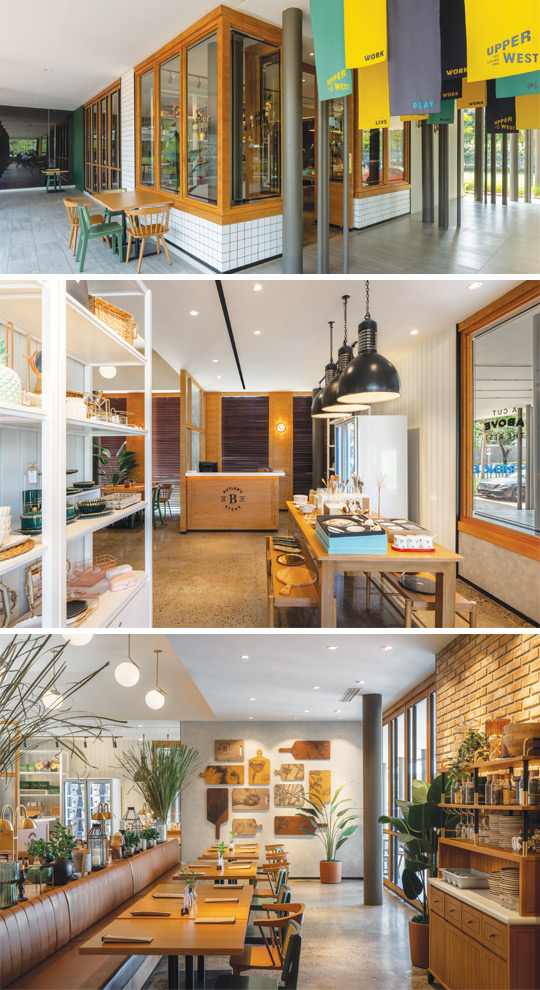 Restoran berkonsep American Steak House bergaya kasual ini, terinspirasi dari produk utama resto ini sendiri yaitu steak. Steak sendiri memiliki kesan rawness, semi finished, dan kasual, bukan formal apalagi bukan fine dining cuisine. Dengan mengambil raw concept ini, menjadi nilai jual yang unik dari Steak House ini. Metaphor ingin menampilkan suasana yang intimate, casual, friendly, welcoming, ketika datang ke Butler's Steak, tidak harus dress up, sehingga cocok menjadi pilihan tempat untuk bersantap bersama teman dan keluarga, namun juga masih pas untuk dinner date bersama pasangan.
Restoran seluas 284 meter persegi, yang berlokasi di area Marketing Gallery, Show Unit Upper West BSD ini memiliki satu main dining area, serta dua vip rooms yang juga dapat digabungkan menjadikan satu. Metaphor sendiri melakukan rancangan serta pengerjaan konstruksi selama kurang lebih 3 bulan.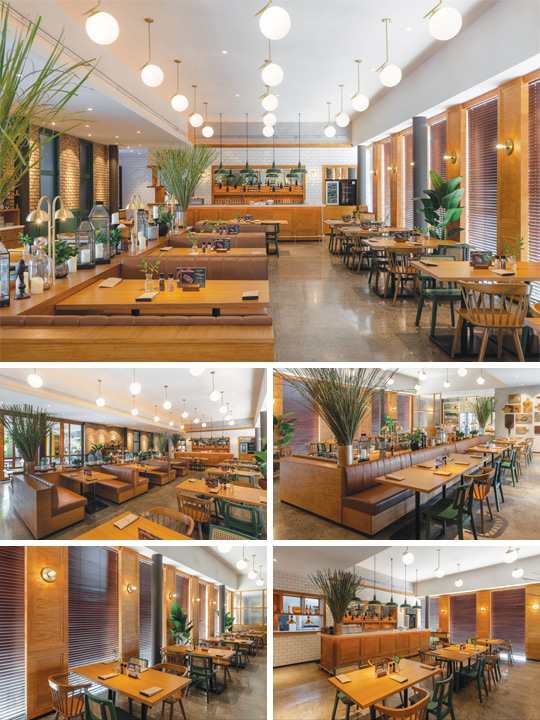 Keinginan sang klien dengan tampilan restorannya yang tidak intimidating namun tetap hype juga menjadi perhatian utama dari keseluruhan desain konsep Butler's Steak. Pengaplikasian warna brand identity (warna hijau tua) dengan adaptasi gaya Modern Industrial New York diimplementasikan ke dalam furnitur, wall paneling, wall graphic, serta penggunaan tanaman hijau di dalam interior.
Look dari Modern Industrial New York, diterjemahkan dengan penggunaan wood paneling yang agak kemerahan, ceramic tiles putih, panel duco warna hijau dan raw brick sambil tetap menonjolkan sisi kasual dari resto ini. Empat elemen ini kemudian dilengkapi dengan penggunaan greeneries di berbagai area, ini juga supaya area indoor berkesinambungan dengan area outdoor (taman).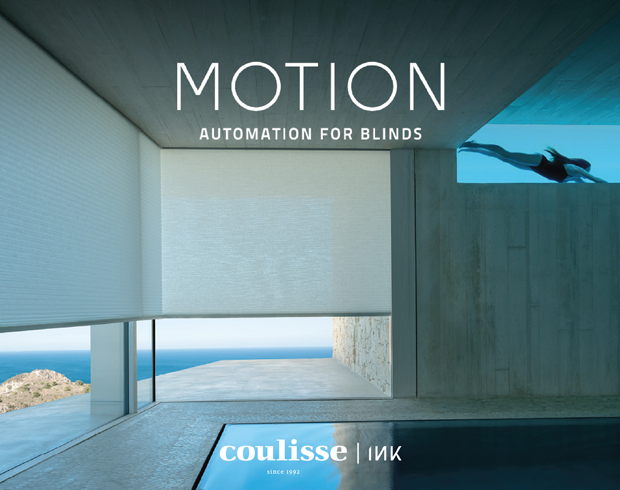 Presented by Coulisse | INK
Penggunaan aksesori, furnitur, dan artwork pada interior Butler's Steak menjadi elemen terpenting dalam desain interior resto ini. Metaphor memilih produk-produk secara seksama demi mewakili sisi kasual dan warm dari Butler's Steak. Dan bagian depan resto yang dijadikan retail area, menawarkan produk-produk home living dari IKONS Furniture seperti lilin, bantal, keranjang penyimpanan, cutleries, glassware, dan lainnya. Hal ini juga untuk menyediakan satu aktivitas kepada pengunjung yang datang.
Dalam pengerjaannya, treatment pada VIP rooms sedikit berbeda dari main dining area, dengan lebih banyak menggunakan warna hijau pada dindingnya untuk tetap menyesuaikan dengan identitas dari Butler's Steak ini sendiri. Serta juga wall graphic motif dedaunan di bagian atas dinding sebagai salah satu cara untuk membawa sisi nature ke dalam ruangan indoor. Permainan furnitur dengan bentuk yang berbeda, menjadi salah satu cara untuk mensiasati treatment di dining area agar tampil tidak monoton atau berulang. Penggunaan indirect light juga dapat menciptakan suasana intimate seperti wall lamp dan table lamp yang masih tetap mengacu kepada konsep Modern Industrial New York. Pemasangan hanging lamp dapat membuat evoke curiousness dari pengunjung ketika melihat dari luar.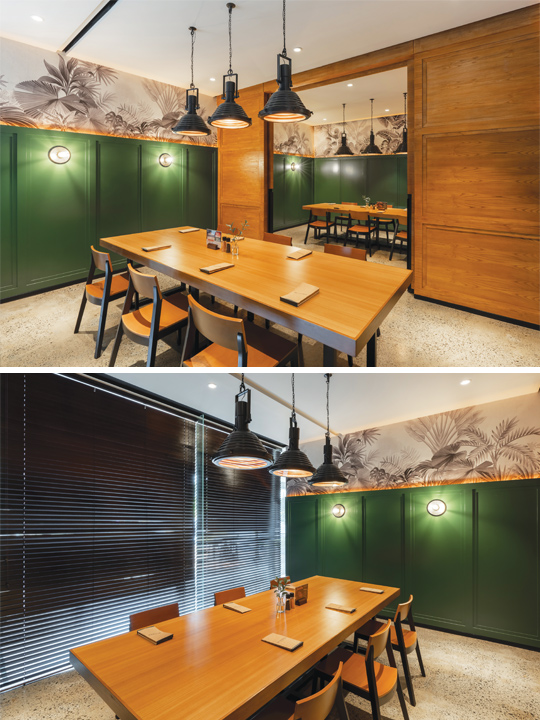 Luas bangunan: 284 meter persegi
Lokasi: Area Marketing Gallery, Show Unit Upper West BSD
Interior Designer: PT Metaphor Indonesia
Principal Designer: James Wijaya
Designer in Charge: Christine
Total Area/Rooms: 1 Floor, 1 Main Dining Area, Two VIP Rooms.