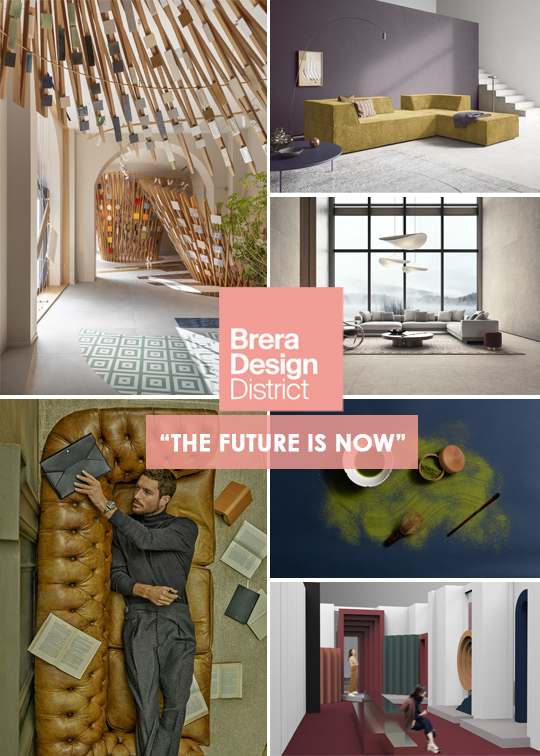 presented by

BRERA DESIGN DISTRICT – "THE FUTURE IS NOW"
Published by Sugar & Cream, Monday 10 April 2023
Images courtesy of BRERA DESIGN DISTRICT
Brera Design Week 2023, April 17-23, 2023
The future is now, giving it shape and meaning is a priority. This is the proposition on which the 14th edition of Brera Design Week is structured, scheduled from April 17th to April 23rd with over 240 events scheduled. This edition officially marks the event's complete return to a live in person event. Promoting the theme proposed by Fuorisalone, "Future Lab", Brera Design Week 2023 stimulates a thought on the challenges of contemporaneity, giving space to projects and practices capable of triggering positive change. The future is not something abstract and intangible, rather it is built with the quality of our present.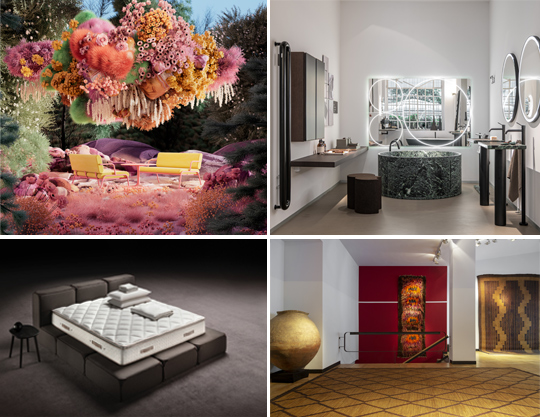 Design is a valuable tool, to meet tomorrow's challenges: the design week is the most important showcase for creative and innovative ideas as well as solutions with a strong impact. "Future Lab" is a moment of analysis and research to translate today's challenges into opportunities for tomorrow. Brera Design Week 2023 will be a lens on the topical issues that most interest the design industry, from material innovation to circular economy, passing through new market challenges between online and offline experiences, with a focus on fresh ways of involving and capturing the interest of the new generations.
The project, as usual, is curated by Studiolabo, an agency and creative studio formed by a team of professionals specialised in communication design, from digital marketing to concept and graphic design, from web design to strategic design.
"The events and installations of the Brera Design District contribute to enrich the schedule of the Milan Design Week, which takes place from April 17th to April 23rd. This is an important appointment for professionals, but also for simple design lovers: an initiative that introduces the world of design to the whole city, bringing citizens closer to the beauty, the genius, and the culture of design. Design is not only a pillar of our Made in Italy, but it is a fundamental sector thanks to which our city is recognised all over the world, capable of generating new ideas, employment and development of the territory. With the initiatives of the Brera Design District, one of the most important districts of the Milan Design Week, we enhance Italian know-how and creativity, sustainability and circular economy" says Alessia Cappello, Councillor for Labour and Economic Development responsible also of the Fashion and Design sector.
Brera Design Week:
Events and protagonists of the district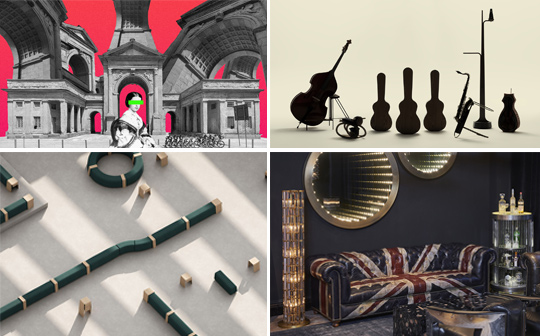 This year in the Brera Design District some of the most renowned names in Italian and international design: Agostino Iacurci for glo™ for art; Zanellato/Bortotto for FENIX and Bolzan; Paola Paronetto for Veuve Clicquot; Studio Zaven for Design Variations; Matteo Cibic for STIGA; Cristián Mohaded for Loro Piana Interiors; Patricia Urquiola for Mutina; Patricia Urquiola and Michael Anastassiades for Mutina; Vincent Van Duysen for Molteni&C; Barber and Osgerby for Marsotto; Studio NONOTAK for Saint-Louis; Federico Peri for CEDIT Ceramiche d'Italia; Kees Dekker for Colmar; Andrea Steidl, Matteo Cibic, Duccio Maria Gambi, Daniele Galliano, Gianluca Cozzarolo and Stefano Del Vecchio for Delvis Unlimited; Carlo Ratti Associati and Italo Rota for INTERNI; Marialaura Irvine for Jaipur Rugs; Elena Salmistraro for Lanerossi; Federica Biasi and Gio Tirotto for Manerba; Sabine Marcelis and Bita Fayyazi for SolidNaturee; Claudia Comte for USM; Studio Lys, Matteo Thun & Antonio Rodriguez and David Lopez Quincoces for Zucchetti e KOS; Studiopepe for Visionnaire and many more.
Also this year, many names in furniture design are coming to Brera, choosing the district as a showcase for their showrooms: LIU JO Living – Via Pontaccio, 19; V-ZUG Studio Milan – Via Fiori Oscuri, 3; Bolzan – Via Mercato, 3; Casalgrande Padana – Via Mercato, 1; Deco – The Italian Decking Company – Via Goito, 3; iDogi – Foro Buonaparte, 55; Bene Italia Showroom – Foro Buonaparte 53; Lanerossi – Via Mercato, 5.
Special projects and cultural initiatives
TRAME: an interactive installation designed in the spaces of the Acquario Civico di Milano
There are changes that appear complex to understand if one tries to decipher them with reason, rather they become clearer only when one gives free rein to intuition. Trame is the interactive-perceptual exercise that Stark, dedicates to the theme of Fuorisalone 2023: Future Lab. The human being rediscovers himself as a performer among actors as an integral part of the biological community whose intertwined and shared motion allows the living beings themselves to inhabit. Stark makes this concept of co-authorship its own, proposing a choral interaction. Hands guide the effects in space, a space that is also transformed by the actions of other "performers" who intervene to alter their surroundings too. The work, by means of an interactive sound and visual installation, invites us to rely on a holistic and perceptive understanding, reflecting on how our actions, however conscious they may be, are necessarily intertwined with those of others, weaving the creative narrative that materializes at each encounter. In the evocative aura of the Acquario Civico di Milano, the collaboration with architects Alice Buroni and Gloria Lisi together with Alex Buroni, led Stark to experiment this experience in a shared workshop, proposing a plunge into the marvellous metamorphoses that relations and choral gestures can originate.
Stark, ℅ Acquario Civico di Milano, Viale Gadio, 2, Milan
glo™ for art presents AGOSTINO IACURCI "DRY DAYS, TROPICAL NIGHTS"
glo™ together with Agostino Iacurci presents "Dry Days, Tropical Nights", a large installation in largo Treves inviting the bystander to look at how our Planet could become suggesting to build a better tomorrow all together. Dry Days, Tropical Nights marks one of the stages of the itinerant art projects of glo™ for art, created to support art and spread culture, favouring the democratisation of the artistic experience.
glo™ for art, ℅ Palazzo Treves, Largo Treves, 1, Milan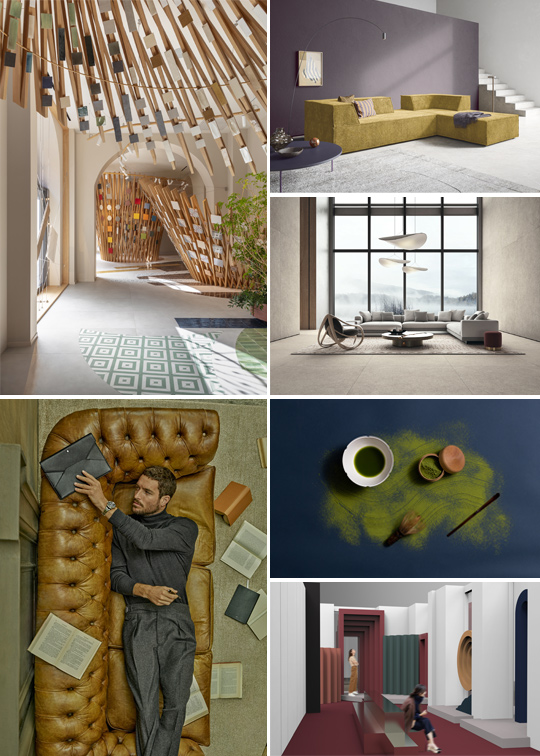 ALIVE IN TIME by Grand Seiko
Grand Seiko, official timekeeper of the Brera Design District, launches the ALIVE IN TIME project, an experiential space dedicated to rediscovering the value of time. The journey begins with a Zen garden, recreated inside the location, celebrating the value of rituality in Japanese culture, by proposing the tea ceremony in a room in full Japanese style. Throughout the week, visitors will be able to enjoy the exclusive experience of watching an artistic work come to life, contemplating the gestures and expression of creativity by sitting on cushions placed on the floor. There will also be workshops, which can be booked, in which one can approach Japanese culture through different techniques: Shodo, Japanese calligraphy, Ikebana, the Japanese art of arranging flowers, and Origami, the ability to obtain figures by folding paper. The journey through the rooms of the "Casa Grand Seiko" leads to the revelation of the brand's watch production: 14 amazing showcases will provide the set for the presentation of the collections. Finally, there will be a temporary store, only open from April 17th to April  23rd , realised in collaboration with Verga 1947, the brand's partner.
Grand Seiko, ℅ InStyle, Via Palermo, 16, Milan
Valcucine presents "Ecosophìa"
On the occasion of the Milan Design Week 2023, Valcucine presents "Ecosophìa". Eco from Ecosustainability, Sophìa from Knowledge. A reflection on how Valcucine imagines the present and the future of kitchen architecture and design in relation to the values of sustainability and innovation that have always been an integral part of the company's identity. The company thus presents new kitchen layouts, the characteristic "Special Elements", which have become a distinctive feature and symbol of continuous innovation, the new "magic openings", associated with the use of new materials and wood finishes, designed to give a sense of warmth to the typical high-tech design. Alongside the result of internal collaborations, Valcucine also presents the fruit of external workshops with important players linked to the world of design such as Domus Academy and ISIA.
Valcucine, Corso Garibaldi, 99, Milan
Signature Kitchen Suite – "TRUE TO FOOD LAB"
In its iconic Milanese showroom, the high-end built-in appliance brand promotes the virtuous innovation of the entire food supply chain, from production to preservation and consumption of quality food, through an experiential and interactive pathway with a strong technological value.
Signature Kitchen Suite, Via Manzoni, 47, Milan
FENIX® – "Surfaces with a View – unconventional of matter stories"
The project "Surfaces with a View" opens FENIX Scenario to the community, transforming the Foro Buonaparte showroom in a theater that expands beyond its walls. The windows become stages designed with materials with refined color combinations, creating an area of interaction and inclusion. On the occasion of FENIX's 10th anniversary, the future of the surfaces and materials proposed by the company is showcased, illustrating future ways of conceiving spaces that combine retail, art and entertainment. Design by Zanellato/Bortotto jointly with Musa.
FENIX Scenario, Via Quintino Sella 1, angolo Foro Buonaparte, Milan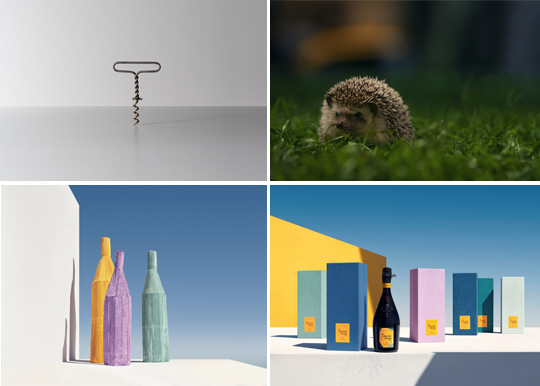 Veuve Clicquot La Grande Dame 2015 by Paola Paronetto
Veuve Clicquot presents the 2015 Vintage of La Grande Dame with a collection of gift boxes created by designer Paola Paronetto. Hosted by Michel Leo, Galleria LA GRANDE DAME by Veuve Clicquot will come to life as a space in which to learn about and buy La Grande Dame 2015, converse with the artist, customize your own personal charm dedicated to this Cuvée and attend special events. Next to it, the Clicquot Café will offer customers La Grande Dame and other Cuvées from the Maison.
Veuve Clicquot, ℅ Galleria Michell Leo, Via Castelfidardo, 2, Milan
Design Variations 2023
Design Variations 2023, the event curated by MoscaPartners, will present Breath, the site-specific work on the façade of the Circolo Filologico Milanese, designed by Studio Zaven. The work is characterised by an extreme formal purity and it is created using a special silicone membrane. These graphic figures are intended as an opportunity to ponder on how design is no longer focused solely on the aesthetic research of products, but rather on how design is a tool for a multidisciplinary approach, the backbone of the economic and social system and the bearer of innovation.
Design Variations 2022, ℅ Filologico Milanese, Via Clerici, 10 | Palazzo Visconti, Via Cino del Duca, 8, Milan
House of Switzerland
House of Switzerland Milano – Innovative Swiss design flies the flag at Design Week How is the Swiss Design scene responding to the challenges of the present? The group exhibition "Urgent Legacy" displays the innovative & sustainable responses of emerging designers, independent studios, established brands & educational & research institutions. House of Switzerland Milano is a joint project of Presence Switzerland at the Federal Department of Foreign Affairs & the Swiss Arts Council Pro Helvetia.
House of Switzerland, ℅ Casa degli Artisti, Via Tommaso da Cazzaniga, angolo, Corso Garibaldi, 89/A, Milan
Shift Craft: Korean Craft Show in Milan 2023
Drawing on perspectives and techniques shaped by Korea's regional characteristics, the exhibition conveys the unique melody and sensibility of Korean crafts and promotes a vision of tomorrow in numerous variations free from conventional wisdom and craft laws. The 20 representative Korean handicraft artists, active in various fields including, ceramics, metal, wood, glass, lacquer demonstrate the possibilities of moving from tradition to transmission and from adaptation to application through ten different artistic interpretations. At the beginning of a long journey to create a new authenticity based on the traditions of the past, we hope that this exhibition will expand the horizons of Korean craftsmanship.
KCDF – Korea Craft & Design Foundation, ℅ Fondazione Feltrinelli, Viale Pasubio, 5, Milan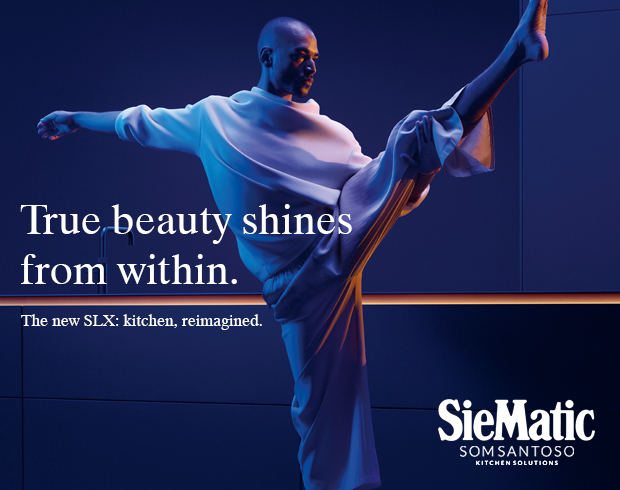 Presented by Som Santoso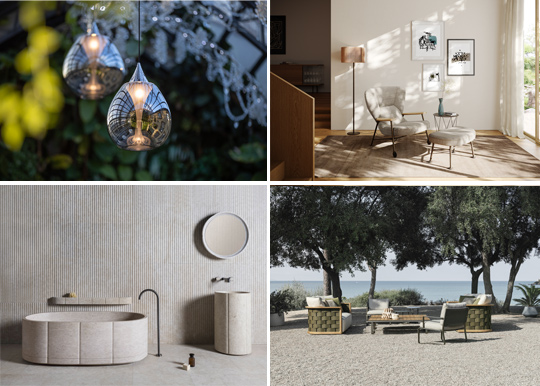 STIGA presents "My Patch of Green"
For over 100 years, STIGA Group has been bringing innovation to the world of gardening. For the first time at Fuorisalone, STIGA will offer an immersive sensory experience, where nature comes to life through technology. With "My Patch of Green", STIGA underlines the importance of caring for your garden. Because every green space, regardless of its size, is part of the life cycle of a complex and ever-changing ecosystem that must be protected, our planet.
STIGA, ℅ Denis, Via Statuto, 16, Milan
Cotto d'Este presents "The Secret Garden"
Thirty years after its foundation, Cotto d'Este presents The Secret Garden, an installation that will transform the Piazza Castello showroom into a dreamlike and imaginary place, where ceramic sculptures and spectacular green walls will give access to new worlds, made of matter and architecture. A metaphor for the many design and creative opportunities and a space to rest and relax, thanks to volumes made of stoneware and thought for visitors.
Cotto d'Este Showroom Milano, Piazza Castello – angolo Via Quintino Sella, 5, Milan
Visionnaire presents "L'impero dei sensi"
A synesthetic story born from a vision of Studiopepe to tell a mini capsule of three pieces: a Shibari armchair, a Parade lighting system and a pair of Blanche mirrors. The collection, as well as the immersive installation to be held during the Milan Design Week 2023 in the spaces of the Wunderkammer – at the Visionnaire Design Gallery – is dedicated to the senses as instruments of experience of the world. The coverings are tactile and the colors in the shades of the skin. The visual experience of the installation will be accompanied by a dance performance and visual contributions dedicated to the five senses.
Visionnaire, Piazza Cavour, 3, Milan
Loro Piana Interiors presents "Apacheta" di Cristián Mohaded
Loro Piana Interiors introduces "Apacheta" at Milan Design Week, presenting a new project by Argentinian designer and artist Cristián Mohaded through an installation inside the Cortile della Seta, at Loro Piana's Milanese headquarters. The contrasting landscapes of Argentina inspired the dreamlike world created by Mohaded, where twelve towers made in Loro Piana Interiors fabrics rise from the ground and embrace the furnishings projected by the designer.
Loro Piana, Cortile della Seta, Via della Moscova, 33, Milan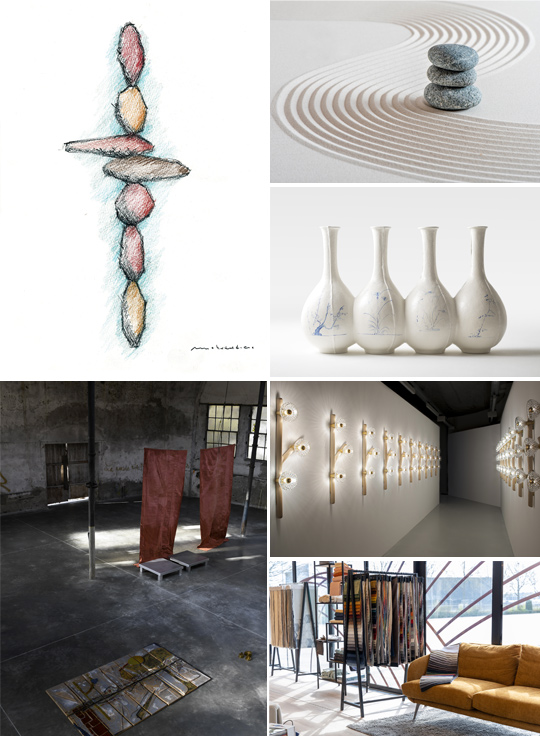 Casa Mutina
Mutina will present a project of great experimentation on the ceramic surface that comes to life through the collaboration with Patricia Urquiola, a consolidated presence in the Mutina team, and with Michael Anastassiades, who inaugurates a new collaboration with the company. The elements of the new collections will be exhibited inside Casa Mutina Milan through a special installation designed by the designers in which the surfaces dialogue with the rooms in a continuous exchange of suggestions.
Casa Mutina Milano, Via Cernaia, 1/A, Milan
SolidNaturee presents Beyond the Surface
SolidNaturee lands in the heart of Brera, at Via Cernaia 1, occupying one of the district's most intimate and secret spaces. On display will be a collection of bespoke stone creations designed by various designers, including Sabine Marcelis, Iranian artist Bita Fayyazi and others.
The installation will guide visitors through an immersive dreamscape, designed by OMA, that draws parallels between the formation and quarrying of stone and the realisation of dreams.
SolidNaturee, Spazio Cernaia, Via Cernaia, 1, Milan
Light – Floating Reflection. Ingo Maurer Porta Nuova emotion.
Ingo Maurer chooses an unexpected location in the Brera Design District, the Caselli di Porta Nuova, for a major event open to the city that marks a new chapter for the company after the death of its famous founder.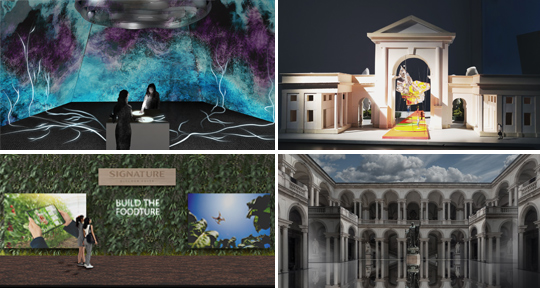 The strong points of the current collection and the novelties will be the protagonists of an imposing light installation with a set-up of great scenographic impact: a carpet about 30 metres long painted in fluorescent colours will cross the arch, on which a surface of reflecting material supported by a structure of ropes will hover in the air. The effect will be an explosion of colours, to be experienced by day, but also by night.
Ingo Maurer, Caselli11/12, Piazzale Principessa Clotilde, Milan
Molteni&C
To mark Milan Design Week, Molteni&C opens the doors to its new Boutique located in Via Solferino on the corner of Via Pontaccio. The historical exhibition space, renovated and enlarged, designed by architect and creative director Vincent Van Duysen, hosts the new 2023 collections including the elegant 'Mateo' table, designed by Van Duysen. Also starring in the space is the first Molteni&C|Outdoor collection, coordinated by the creative director himself and interpreted by some of the most important contemporary designers.
Molteni&C, Via Solferino ang. Via Pontaccio, Milan
Lanerossi presents "Campanule takeover"
An icon in the history of Italian interior and textile design, Lanerossi confirms its participation in Design Week 2023 which, for the first time, will see it as a protagonist of the Brera Design District with an event in its store on Via Mercato. A site-specific installation, conceived as an immersive experience in the creative world of Lanerossi that, for the occasion, meets the unmistakable mark of designer Elena Salmistraro, who signs for the company a new collection of textile accessories.
Lanerossi Milano, Via Mercato, 5, Milan
Rethink! Service Design Stories | Designing fair service ecosystems
Rethink! Service Design Stories is the first Italian festival dedicated to Service Design and Innovation, aimed at building a public arena where experts, businesses and public institutions can meet to discuss and develop new ideas and networks. The festival, born in 2017, was founded and promoted by POLI.design – Politecnico di Milano and is now in its VII edition. On the 20th of April 2023, from 12 to 21 at Spaces Porta Nuova (Sala Archistar) in Milan, we will be discussing how service design can strengthen and improve social justice processes, more precisely themes related to equity, inclusive and participatory practices and redistribution of power and resources. The shift to a service-dominated economy requires a strong interconnection with a pervasive social justice perspective to support the transition to a more sustainable society, in the broadest sense of the term. It is in fact a matter of including in most practices, a particular attention to the impact of services on the most fragile ecosystems, and therefore the biodiversity that it composes.
Rethink! Service Design Stories, ℅ Spaces Porta Nuova, Bastioni di Porta Nuova, 21, Milan
Barber & Osgerby X Marsotto edizioni
During Milan Design Week 2023, from 17 to 23 April, at the showroom in Largo Claudio Treves 2, Marsotto edizioni presents a collection of marble furniture designed by Barber and Osgerby. For the occasion, a solo exhibition will be set up dedicated to the new family of products with an essential and timeless style, which has always been a distinctive feature of the famous London studio.
Marsotto Milano Showroom, Largo Treves, 2, Milan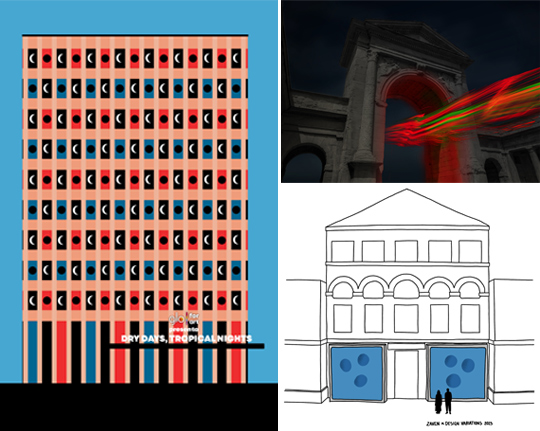 Saint-Louis presents: "Mostra Lumières"
From April 18th to April 23rd 2023 Saint-Louis invites its community of architects/decorators and the general public to discover the exhibition Lumières (Lights), in the cloister of the church of Santa Maria del Carmine. This exhibition raises a dialogue between crystal, sound and light – from the timeless chandelier to the contemporary portable lamp. Designed in collaboration with the NONOTAK studio, the duo's signature light and sound installations reveal an innovative aspect of Saint-Louis.
Saint-Louis, ℅ Chiostro di Santa Maria del Carmine, Piazza del Carmine, 2, Milan
"Plywood is future": Panguaneta offre un arredo urbano alla Brera Design Week per un futuro sostenibile
Poplar is (now) the future. A valuable raw material and its Italian short supply chain are told in the Pangua Panka benches: an opportunity to take a break in the heart of the Fuorisalone and rediscover our roots where our tomorrow is already enclosed. Poplar plywood is technological innovation, circular economy, valorisation of the territory: the benches shape the path of Panguaneta, a company projected towards Carbon Neutrality that starts from tradition and invests in responsible choices according to a sustainable vision of the future.
Panguaneta, ℅ Corso Garibaldi, 99 – ℅ Corso Garibaldi, 112 ang. Via Marsala, Milan