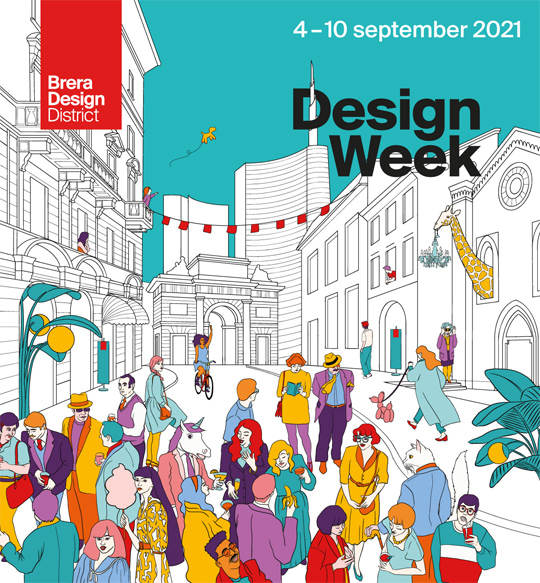 presented by

BRERA DESIGN DISTRICT 2021: 4-10 SEPTEMBER 2021
Published by Sugar & Cream, Friday 27 August 2021
Text & images courtesy of Brera Design District
Brera Design Week: "Innovative Living"
This year Brera Design District presents "Innovative Living" which is the name of the project created by Xiaomi, main sponsor for Fuorisalone.it. The theme is aiming to investigate innovation as an integral, almost invisible part, of our daily life. During the Design Week, Xiaomi, with its smart life products, strongly connected to design, will be hosting a series of talks, with eminent guests and special initiatives, held inside Casa Xiaomi, at the Brera Design Apartment, and shared digitally to involve the general public. Casa Xiaomi will thus be transformed into the ideal venue to share ideas and creativity.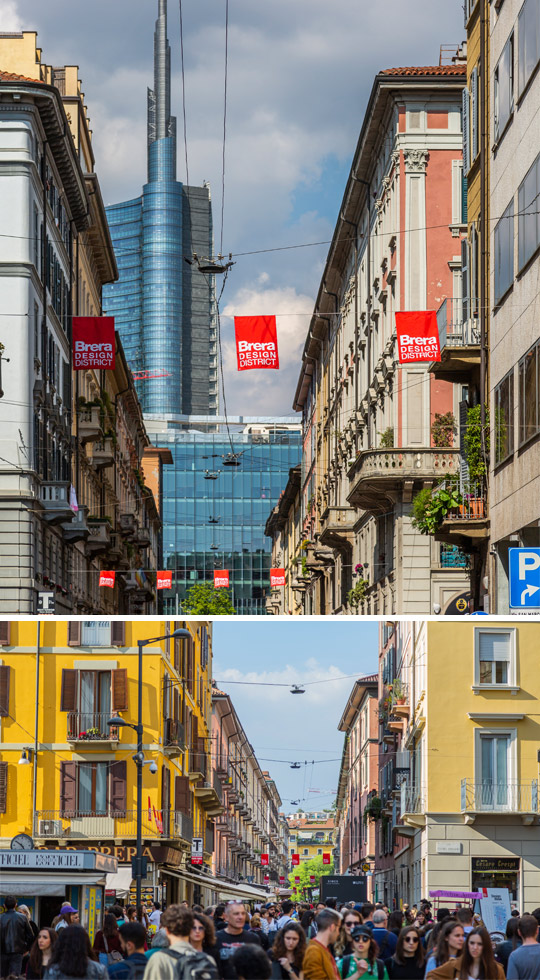 Special projects and cultural events
Philippe Starck for Lualdi
In the renovated setting of the Milanese showroom in Foro Buonaparte, which inaugurates the restyling designed by Piero Lissoni on the occasion of Fuorisalone 2021, Lualdi presents its new collaboration with Philippe Starck. The French designer will be the brand's guest for the event on 6 September 2021, during which it will be possible to visit the new exhibition that tells the story of Lualdi, from icons to new products.
Lualdi, Foro Buonaparte 74, Milan
Saucony Originals participates in the 2021 edition of Milan Design Week bringing all its urban style under the aegis of its iconic Shadow 6000 trainers. Saucony has always been a player outside the chorus of Urban Culture, inspired by those who live the city to the fullest without following its fashions, but always being one step ahead, and wants to bring its vision by expressing the concept "Living the future Metropolies" using one of the languages closest to the city: Street Art. Saucony has selected one of the most influential Street Artists of the scene and a wall of the Brera Design District, to interpret all the values of the Brand in an authentic and raw way.
Constance Guisset for FENIX Scenario
FENIX has involved the French designer Constance Guisset to give life to "FENIXORAMA", an installation that celebrates and puts into dialogue the system of materials and colour palettes of the group's brands. A project that will transform the FENIX Scenario hub in Via Quintino Sella 1 into a place where you can be inspired and experience the beauty of the brand's innovative materials up close.
FENIX Scenario, Via Quintino Sella, 1, Milan
"Wherever you feel" by Manerba
During Fuorisalone, Manerba proposes a series of design solutions that meet the new needs of co-living and co-creation in three types of spaces: home-office, office as a hub, meeting & lounge. A series of specific configurations based on the type of environment, designed by Federica Biasi Studio, to present the Manerba novelties together with a review of some iconic products in the catalogue.
Manerba, Piazza San Simpliciano, 1, Milan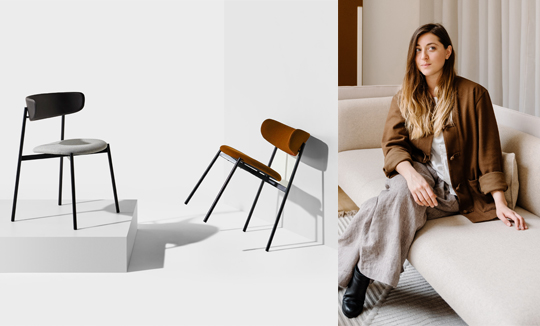 Manerba, Easy Chair by Federica Biasi | Federica Biasi
Matteo Thun & Partners for Florim
The collaboration between Florim and the Matteo Thun & Partners architecture and design studio gives life to a new collection of ceramic wall tiles that matches the "Sensi of Casa dolce casa" series, giving a tone of colour. The layout designed for the Fuorisalone reflects the synthesis of innovation, design and sustainability.
Florim Flagship Store, Foro Buonaparte, 14, Milan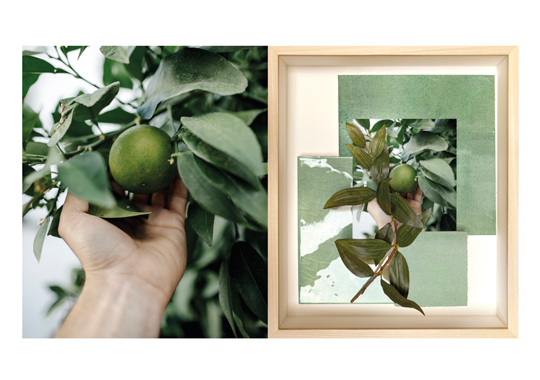 Florim Preview, Matteo Thun & Partners

Elena Salmistraro for CEDIT
Elena Salmistraro's talent and communicative power are translated into a capsule collection that interprets the "Hotel CHIMERA" installation designed for CEDIT with a new, equally expressive cut, but with a value content.
Spazio CEDIT – Foro Buonaparte 14A, Milan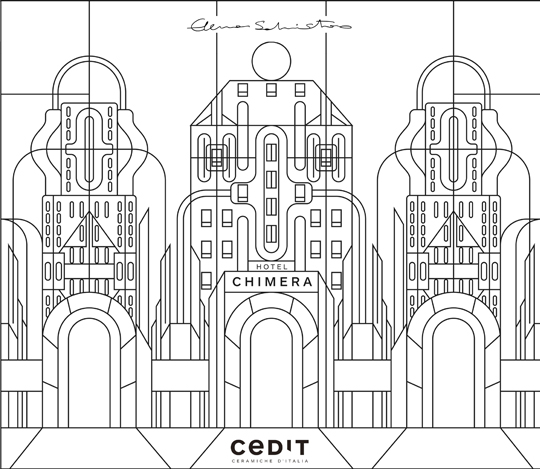 Cedit Preview, HotelChimera-2021

Sustainability according to Franke
Franke, in its flagship store in Brera, presents a special project dedicated to sustainability. Environmental protection, a key point in the company's philosophy, is an essential choice that has been recurring throughout the history of the brand since its origins. For Fuorisalone 2021, the space will be totally set up in an eco-friendly way, becoming the ideal setting for some of the company's iconic products, dedicated to water purification and air purification.
Franke, via Pontaccio, 18, Milan
Carlo Ratti for the Orto Botanico di Brera
"Natural Capital", the project created by CRA-Carlo Ratti Associati for Eni, recreates a three-dimensional representation inside the Orto Botanico di Brera in Milan. The installation aims to be one of the largest data visualizations ever created and shows Eni's commitment to the protection and conservation of forests. The project aims to highlight the role of plants and trees in the production of oxygen, showing the amount of CO2 that individual species are able to capture and accumulate.
Orto Botanico di Brera, Via Fratelli Gabba 10 – Via Brera 28, Milan
Matteo Brioni for Atlas Concorde
Atlas Concorde continues its dialogue with the world of design and presents, in its Milan showroom, the projects born from the collaboration with renowned architects and designers. "Boost Natural" is the collection created in collaboration with Matteo Brioni: inspired by raw earth surfaces, a natural and ancient material, it expresses all its aesthetic value. Dialogo is the line of design washbasins designed by Mario Ferrarini for the Atlas Concorde Habitat furniture project. 3D Sign and 3D Squares, the two patterns designed by Piero Lissoni for the three-dimensional surface collection, 3D Wall Carve.
Atlas Concorde, Via San Marco 12, Milan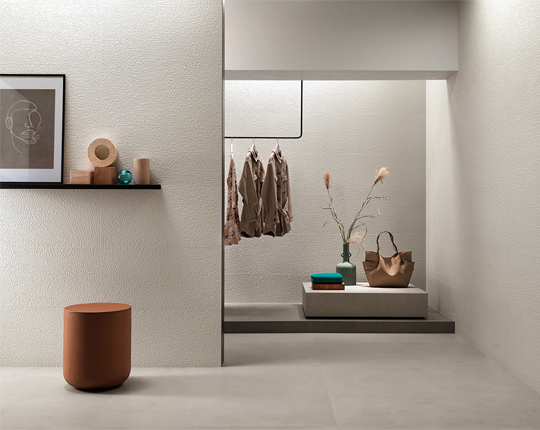 Atlas Concorde 3D Sign-White designed by Piero Lissoni

The new Dedar collection
With the September 2021 collection, Dedar presents new textile wall coverings that bring matter, texture and colour to surfaces, making the yarn the protagonist with its vibrations and irregularities. Among the novelties is a new Mohair velvet, naturally resistant and with fireproof properties, capable of combining tactile and aesthetic quality with practicality and ease of use. Finally, in a delicate balance between light and matter, a collection of veils comes to life that combines materiality and transparency.
Dedar Showroom, Via Fiori Chiari, 18, Milan
Spazio Neven is born
The Sala Sironi at Palazzo dell'Informazione is transformed into Spazio Neven, a place for promoting high technology applied to luxury private environments, to host Samsung's The Wall Experience. Steeped in culture and art, the location becomes the perfect base for presenting the latest generation of high-end solutions, capable of combining highly innovative audio and video experiences.
Spazio Neven, Piazza Cavour 2, Milan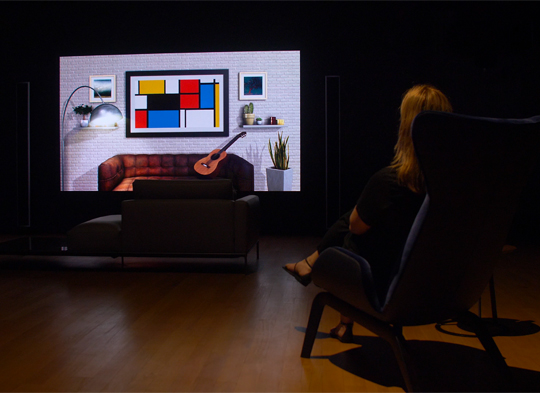 Spazio Neven

The "Emerging lines" project by Pianca & Partners
Pianca & Partners gives space to new generations of designers with an exhibition dedicated to the work of 3 young talents: Giuseppe Arezzi, Maddalena Selvini and Flatwig Studio. This is the first appointment of the "Emerging lines" format, conceived by the Milan contract hub to promote the creativity of the future.
Pianca & Partners, Via Porta Tenaglia, 7N3, Milan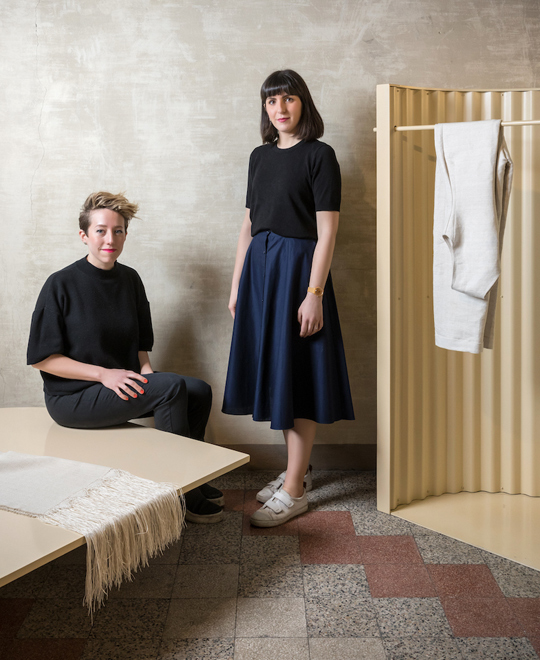 Pianca & Partners Portrait

Duvivier Canapés chairs
Charlotte Juillard, Guillaume Hinfray and Pierre Gonalons are the designers behind the Duvivier Canapés 1840 seating collection, with which the French brand makes its debut in Milan during the Fuorisalone. The installation is curated by Guillaume Hinfray, Creative Director of the brand.
Duvivier Canapés, Via Palermo 19A, Milan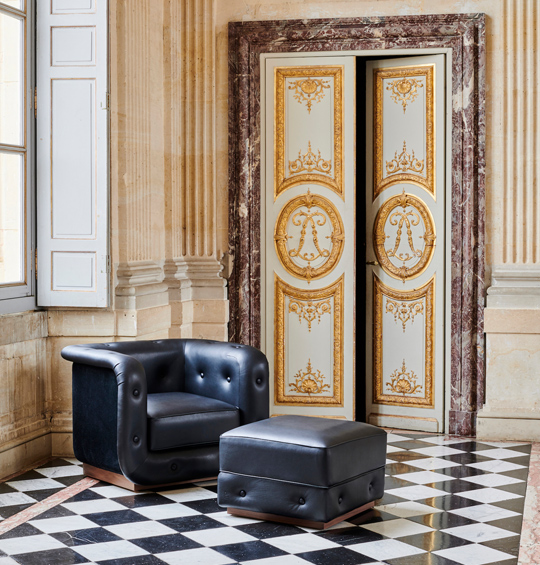 Duvivier Canapes Collection Serge Design P.Gonalons Copyright mandatory D.Delmas
The new flagship store of Timothy Oulton by Nomad Selection
Timothy Oulton by Nomad Selection inaugurates its second Italian flagship store in Milan, a space that covers an area of 150 square metres with three important windows, in a location that stands out for its prestigious historical arches and wide spaces. The gallery will host furnishing elements and proposals dedicated to lighting, presenting itself as an unexpected scenario, able to host events and private dinners, in line with the philosophy of Timothy Oulton by Nomad Selection.
Timothy Oulton by Nomad Selection, Via Pontaccio, 19, Milan


Timothy Oulton by Nomad Selection

A creative tour by iGuzzini
The Light Gate opens its doors to the public to accompany them in the discovery of 'Works Together': iGuzzini has always collaborated with the best architects, lighting designers, engineering and design studios in the world to develop standard and bespoke solutions that respond promptly to their design needs and to those of the people who live in the spaces.
The Light Gate, Via Brera 5, Milan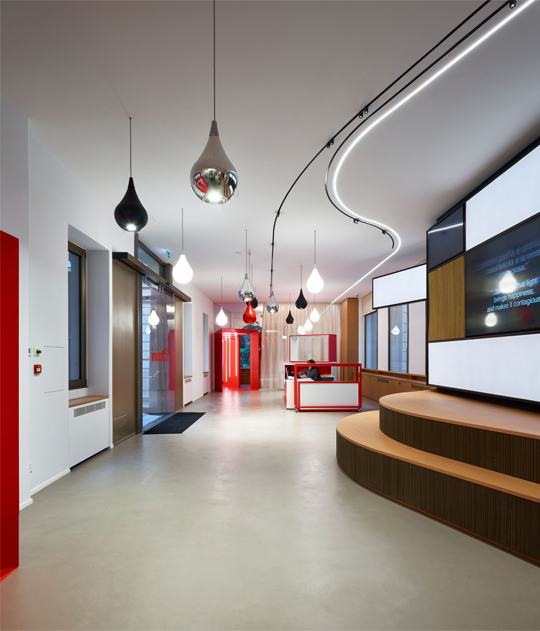 iGuzzini The Light Gate

Lorenzo Palmeri for Meme Gallery
"Quattro. Crediti Cosmici dance floor" is the new album by Lorenzo Palmeri due out in September 2021. "Quattro" is also the title of this small exhibition that, on the intuition of Meme Gallery, combines the author's two souls, music and design. 9 foulards dedicated to the nine tracks of "Quattro": nine 90x90cm foulards in pure silk, one for each track: designed, interpreted by Lorenzo Palmeri, produced in Como, in the Made in Italy silk district.
Meme Gallery, Via Francesco Crispi, 3, Milan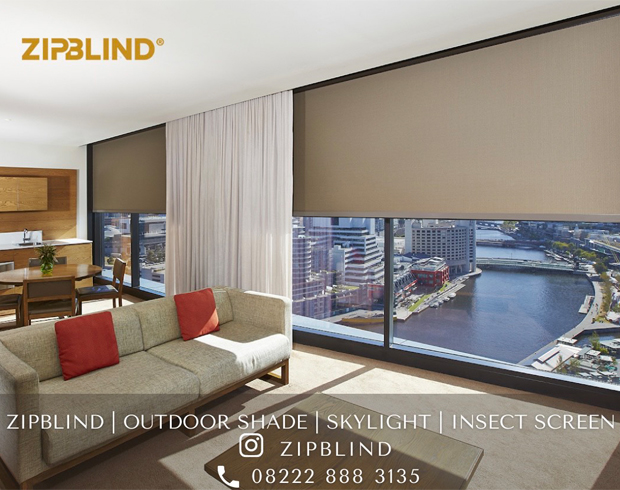 Presented by Zipblind
The "Colori" exhibition at ETEL
"Colori" uses the narrative expedient of colour to explore objects by Joaquim Tenreiro, Daciano da Costa, Jorge Zalszupin, Lina Bo Bardi, Oscar Niemeyer and Jose Zanine Caldas, triggering a synergic dialogue between the creations of the past and those recently created by Patricia Urquiola.
ETEL, Via Pietro Maroncelli, 13, Milan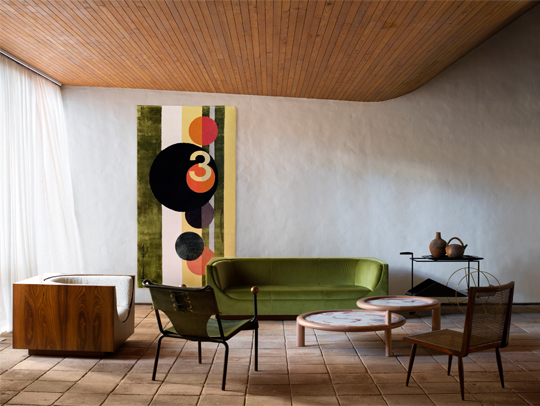 Etel_Penta

DIN by Konstantin Grcic meets Luigi Ghirri – Between the Lines
Mutina is pleased to present the exhibition project Luigi Ghirri – Between the Lines conceived for the spaces of Casa Mutina Milano. The show – curated by Sarah Cosulich with works from the collection of Mutina's CEO Massimo Orsini – has been developed in dialogue with the architecture of the showroom designed by Patricia Urquiola and its newly created ceramic display, the latest collection by Konstantin Grcic.
Casa Mutina Milano, Via Cernaia, 1, Milan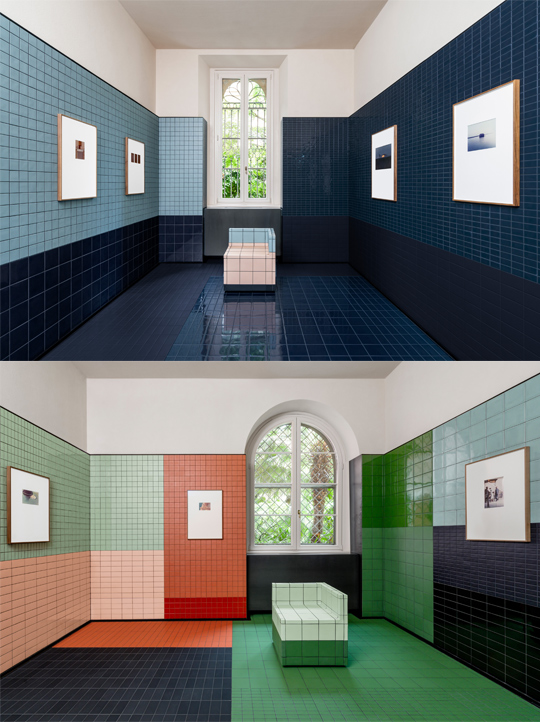 Mutina

No Curves for Bodyfriend
A few steps away from the frenetic Montenapoleone, Bodyfriend offers a total experience for the public: an immersion in the concept of mindfulness, or rather the fullness of "living" and awareness of oneself and one's body. And it does so by involving No Curves, one of the major representatives of tape art at international level.
Bodyfriend, Via Manzoni 43, Milan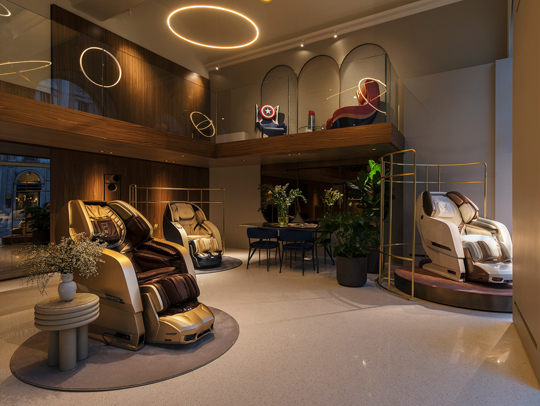 Bodyfriend Europe_Milano

The new Accademia signed by Valcucine
Valcucine Brera is the Milanese hub that, on the occasion of Design Week, presents a preview of the concept developed at the company's headquarters in Pordenone. Valcucine radically rethinks its exhibition spaces, designing a new "Academy" dedicated to tactile, visual and emotional experience to share and spread the company's founding values (sustainability, innovation, well-being and timeless durability) and the unique features of its products.
Valcucine, Corso Garibaldi, 99, Milan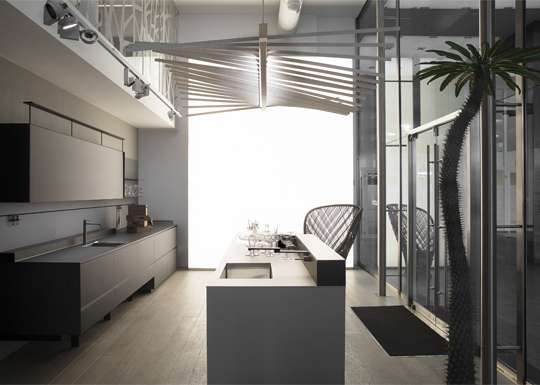 Valcucine
Canvas Milano is born
During the Fuorisalone, Canvas Milano, a project born from the synergy between Thayse Viégas, Brazilian curator and interior designer, founder of Casa Canvas, and Nazarena Manenti, Milanese architect and stylist and creator of Yourbespokeguide, will open its spaces to the public. It will be a meeting place and a dynamic space in continuous evolution.
Canvas Milano, Via Solferino, 42, Milan
Bronze & Glass
Joachim Goertz and Andrea Haberstolz have joined forces to create desirable objects by combining two of the oldest and most precious materials. Lamps, mirrors, handles, tables and furniture objects should not be mere interior views, but tactile experiences. Each Edition Bronze object is handcrafted – designed, cast and polished by hand.
Edition Bronze, Via dell'Orso, 12, Milan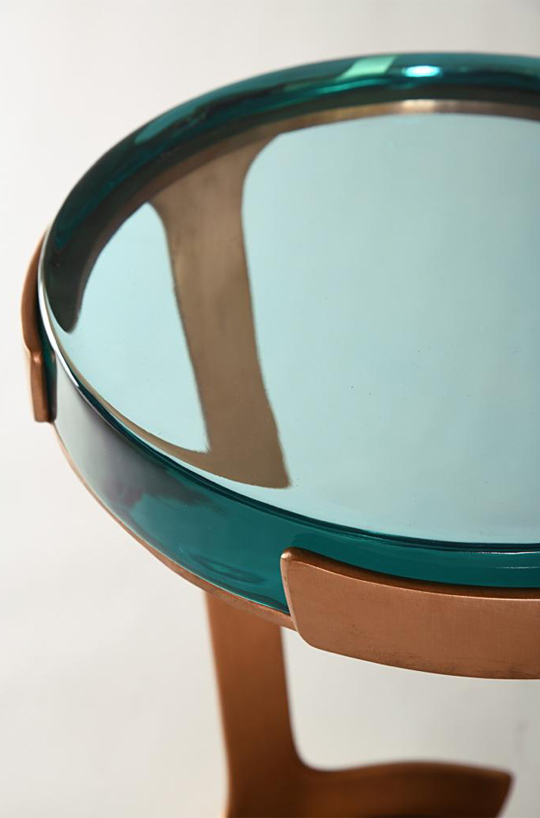 Edition-Bronze & Andrea Haberstolz

The 4th edition of dOT-design Outdoor Taste
A maxi-installation immersed in a luxuriant nature transforms the courtyard and cloister of the Church of San Marco into an oasis of greenery, beauty and conviviality. Leading outdoor design brands create refined outdoor settings, showcasing a range of design, furnishing and equipment solutions, enhanced in their natural environment.
Piazza e Via San Marco, 2, Milan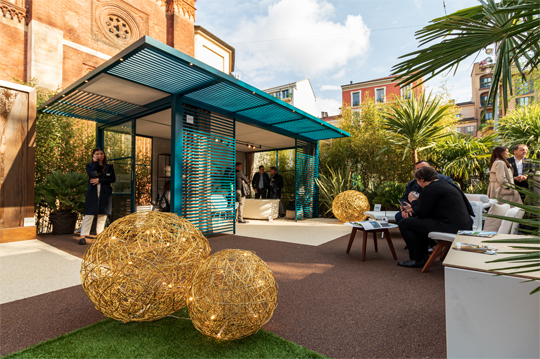 dOT design Outdoor Taste

Ceadesign presents "DESIGN CROSSING".
During the Milan Design Week 2021 Ceadesign presents "DESIGN CROSSING", an itinerary that highlights how the production of taps and fittings has changed over the years, recounting the innate passion for stainless steel, the love for design, the strong attitude to technological innovation that has always distinguished all CEA products. Among the novelties, HOOK stands out, the new tapware system designed by Parisotto + Formenton and Natalino Malasorti.
CEA MILANO, Via Brera, 9, Milan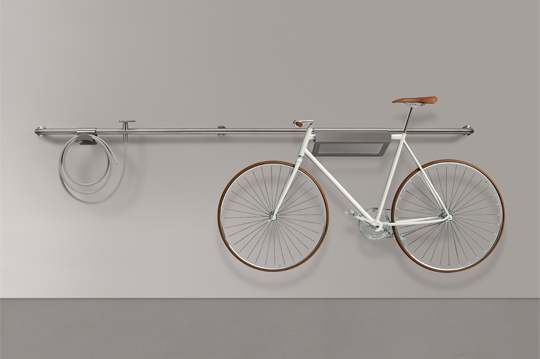 CEA Design Hook satin finish

Insula delle Rose
On the occasion of the Brera Design Week 2021, Insula delle Rose presents a whole series of novelties in the world of design furniture. Among other things, there will be an outdoor space with the theme "Propagation green", an artistic installation that aims to be a reflection on the relationship between our way of living, our living spaces and the constructive force of nature.
Insula delle Rose, Via Goito, 3, Milan
USM x Monocle
The most famous bike shop in the district, Rossignoli, will host the collaboration between the Swiss brand USM Haller and Monocle magazine.
Two bicycles born from the synergy between the two brands will be unveiled for all cycling enthusiasts.
All of this will take place within a setting designed by USM Haller and focused on the green theme.
Rossignoli, Corso Garibaldi, 71, Milan
Visionnaire's secret garden
During Milan Design Week, Visionnaire unveils an evocative installation in its showroom, called "Insula", designed by Marco Bonelli and Marijana Radovic – aka M2Atelier – transforming the space into a new dimension in which architecture, nature and dreams take centre stage. A secret garden that houses the "Caprice" collection designed by M2Atelier and presents a setting in which architecture and nature dialogue in unison. The main floor of the gallery also hosts the products of the Babylon Rack collection, designed by Alessandro La Spada, harmoniously integrated in the "Insula" project.
Visionnaire, Piazza Cavour, 3, Milan
True to Food Garden Show by Signature Kitchen Suite
A tribute to the earth, nature and authentic flavours. The Signature Kitchen Suite showroom is transformed into an immersive garden, intoxicated by the scents of aromatic herbs, with P'arcnouveau's plant installations, the pop-up farm market under the arches of Porta Nuova and True to Food themed tastings.
Showroom Signature Kitchen Suite, Via Manzoni, 47, Milan
The new Porcelanosa showroom
A space where you can plunge into the universe of the Spanish company. All of the Group's brands will be on display, offering an extraordinary selection of the latest trends in ceramic floor and wall tiles, natural materials, kitchens, bathrooms and construction solutions for both private individuals and professionals in the architecture and interior design sectors.
Porcelanosa, Piazza Castello, Milan
LAUFEN space is born
LAUFEN space is born from the search for alternative communication formats that reduce the boundary between physical and digital space: a living organism and an attempt to establish a new dialogue between art, design, architecture and nature. The Kartell by Laufen collection in a pop up installation and an interactive journey through Virtual Space designed by Swiss architects Gabrielle Hächler and Andreas Fuhrimann, in collaboration with experiential interior designer Annabelle Schneider.
LAUFEN space, Via Manzoni, 23, Milan
JV OPEN, the new format of Jannelli&Volpi
Jannelli&Volpi presents the JV OPEN format: a series of projects, companies and events, hosted in two new spaces in Milan: JVstudio and JVstore. Inaugurated in spring on the occasion of the company's 60th anniversary (1961-2021), the two spaces are located in the heart of the district. On the occasion of the Fuorisalone, JV OPEN hosts the brands TWILS and CELLULARLINE, together with designer Matteo Ragni, as well as the London-based interior design studio THDP and TEATRO DELLA MODA.
JVstudio, via Statuto, 21, Milano; JVstore, Corso Garibaldi, 81, Milan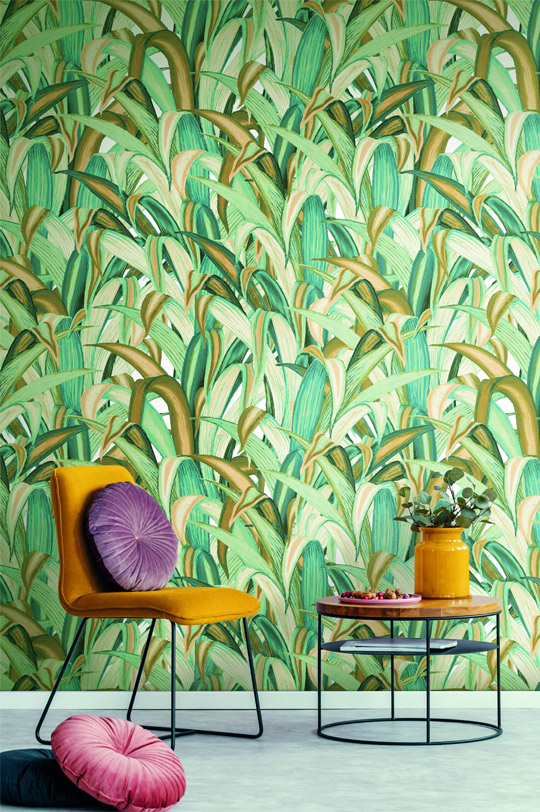 Jannelli_Volpi – JV800 Tierra

MATERICA, Marble Edition 2021
MATERICA is a cultural association founded in 2020 by Marianna Galbusera, Gregorio Lioce and Lajdi Sulaj, with the aim of creating mono-material objects, through direct commissions, open calls, events and exhibitions. During the Fuorisalone, marble is the protagonist of the 2021 edition thanks to an exhibition whose scenography is the result of a fruitful collaboration between STUDIO VLORA, Gregorio Lioce and Atelier Zav.
MATERICA, Corso Magenta, 76, Milan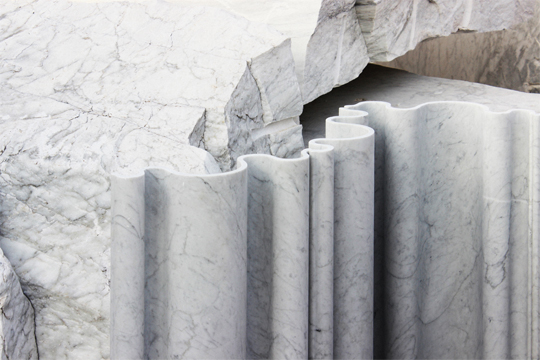 Materica_Bruther_Drapé

Artemest celebrates the theme of water
For Fuorisalone 2021, Artemest will create an exhibition of new pieces inspired by the theme of water in the central courtyard and atrium of the prestigious Senato Hotel in Milan. The courtyard of the Senato is covered by a mirror of water, recalling the Naviglio Grande that once flowed in front of the palace. A curated selection of Italian artisans will present new works and objects with a strong visual impact, sold exclusively on Artemest. The artistic direction of the project will be by Ciarmoli Queda Studio.
Hotel Senato, Via Senato, 22, Milan
CTMP Design Auction
Cambi Auction House in collaboration with the Milanese design consultancy Mr. Lawrence presents the CTMP Design Auction of contemporary collectible design. For the first time in Milan, an extraordinary selection of internationally renowned designers such as Nendo, Fernando and Humberto Campana, Sabine Marcelis, India Mahdavi, Richard Hutten and Zaha Hadid, will be presented together with the names of emerging talents such as Anna Aagaard Jensen, Diego Faivre and Tellurico.
Cambi, via San Marco, 22, Milan
The K35 tram by Lapitec
On the occasion of the September edition of Fuorisalone, architect Michele Perlini redefines the interior of the historic K35 tram, housing Lapitec's Musa collection, the result of a production process covered by 25 patents based on a mixture of 100% natural and silica-free minerals.
Brera, Milan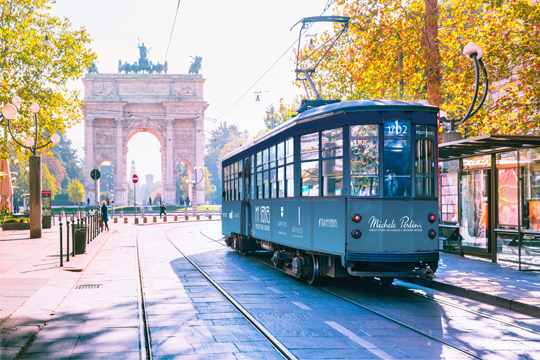 Lapitec_My Senses di Michele Perlini

The permanent showrooms and new openings that have joined Brera Design Week are: Agape 12 – Via Statuto, 12; Airnova – Via Fiori Chiari, 24; Amleto Missaglia – Via Verdi, 6; Antoniolupi – Piazza Lega Lombarda ang. Via Porta Tenaglia; Atlas Concorde – Via San Marco, 12; Bodyfriend Europe – Via Manzoni, 43; Brera Contract – Foro Buonaparte, 57; C&C Milano – Via Brera, 7; Cambi Casa d'Aste – Via San Marco, 22; Casa Canvas – Via Solferino, 42; Casa Lago – Via San Tomaso, 6; CEA Design – Via Brera, 9; Cedit – Foro Buonaparte, 14/A; Ceramiche Refin – Via melone, 2; Christian Fischbacher – Via Carmine, 9; Contract Lab – Via Brera, 30; Cristina Rubinetterie – Via Pontaccio 8/10; Dedar – Via Fiori Chiari, 18; Delvis – Via Marco Minghetti; Dieffebi – Via Milazzo, 8; Effeti Industrie – Corso Garibaldi, 50; ETEL Milano – Via Maroncelli, 13; Fenix – Via Quintino Sella, 1; Florim – Foro Buonaparte, 14; Franke – Via Pontaccio, 18; Galleria Fatto ad Arte – Via Moscova, 60; Green Wise Italy – Via Palermo, 5; H+O – Via Solferino, 11; Henrytimi – Foro Buonaparte, 52; Insula delle rose – Via Goito, 3; Iris Ceramica Group – Via Santa Margherita, 4; Italgraniti – Via Statuto, 21; JVStore – Corso Garibaldi, 81; JVStudio – Via Statuto, 21; Kasthall – Piazza Paolo VI; La Boutique Tempini – Via Gastone Pisoni, 6; Londonart – Piazza San Marco, 4; Lualdi – Foro Buonaparte, 74; Laufen – Via Manzoni, 23; Manerba – Piazza San Simpliciano; Meme Gallery – Viale Francesco Crispi, 3; MetroQuality – Via Solferino, 24; Milaura – Corso Garibaldi, 20; Mirage Project – Via Marsala, 7; Misani – Via Cusani, 9; Moroni Gomma – Corso Garibaldi, 123; Mutina – Via Cernaia, 1/A; Pianca&Partners – Via Porta Tenaglia, 7N3; Porcelanosa – Piazza Castello, 19; Seventy – Via Solferino, 7; Sforzin Illuminazione – Via Gastone Pisoni, 6; Signature Kitchen Suite – Via Manzoni, 47; Snaidero – Piazza San Marco, 1; Society Limonta – Via Palermo, 1; The Light Gate – iGuzzini – Via Brera, 5; Timothy Oulton by Nomad Selection – Via Pontaccio, 19; Valcucine – Corso Garibaldi, 99; Vescom – Foro Buonaparte, 44/A; Visionnaire – Piazza Cavour, 3; ZAMA LABZ – Piazza XXV Aprile, 7;