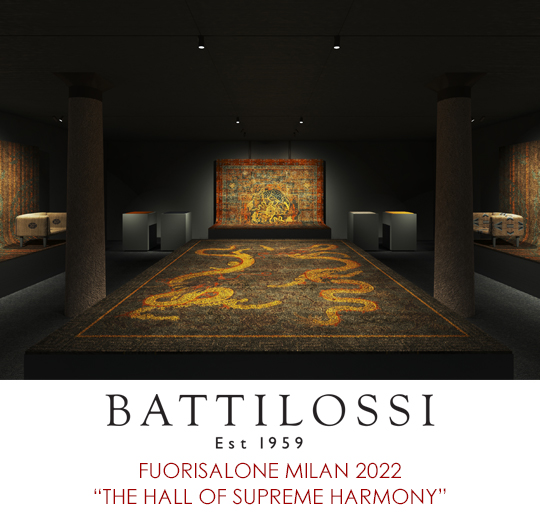 presented by
BATTILOSSI @ FUORISALONE MILAN 2022 – "THE HALL OF SUPREME HARMONY"
Published by Sugar & Cream, Monday 20 June 2022
Images Courtesy of Battilossi
The Magic of the Throne Room
Gagasan tentang masa lalu seperti peti harta karun berisi barang-barang tak ternilai yang harus ditafsirkan ulang membawa Battilossi dalam sebuah instalasi "The Hall of Supreme Harmony" yang ditampilkan pada Fuorisalone Milan 2022.


QUADRATO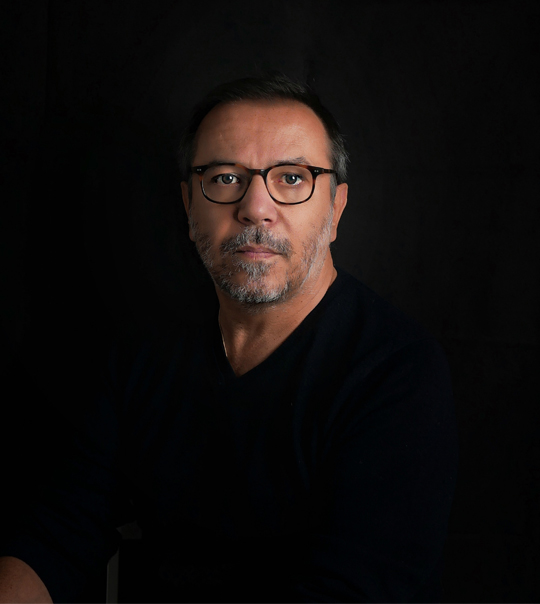 Nicola Gallizia
Instalasi dari Nicola Gallizia ini memamerkan koleksi permadani terbaru yang memancarkan pesona dinasti besar Tiongkok yang tercermin dalam pandangan Battilossi. Kegelapan Sala delle Colonne (Hall of Columns) menjadi latar belakang yang menghidupkan karya dalam daya tarik seperti suasana mewah istana dari ruang singgasana Tiongkok kuno. Seperti membangkitkan Imperial China, keindahannya, sejarah yang kaya dan penguasaan pengrajin.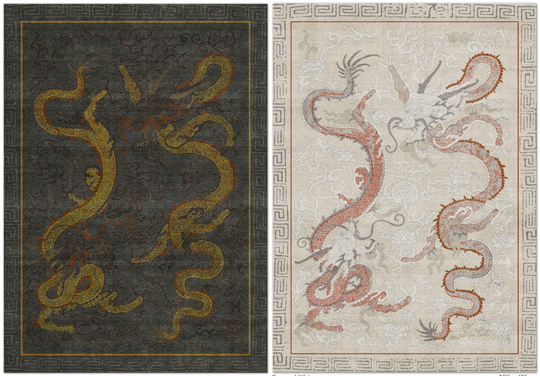 Dragon Dark & Light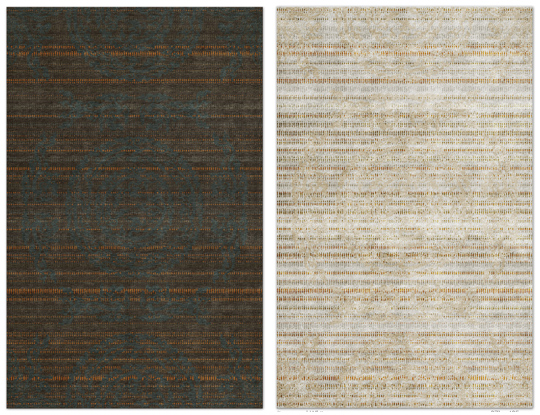 Jiaguwen Dark & Light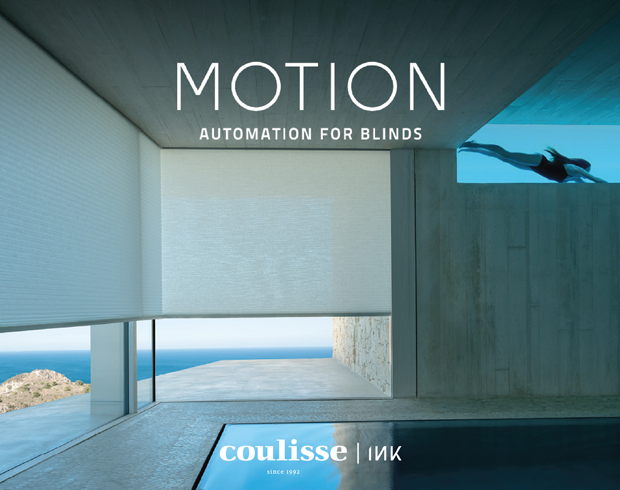 Presented by Coulisse | INK
Karpet persegi berukuran 3×3 m berfungsi sebagai latar belakang menampilkan sosok Foo Dog, penjaga singa gedung kaisar Tiongkok, yang mistis. Bagian tengah terdapat permadani persegi 3×4 m tempat dua naga mengapung dengan anggun, inkarnasi dari konsep Yang, simbol kaisar Tiongkok. Dan pada bagian samping, dua karpet persegi panjang abstrak, 3×4 m, menggambarkan Jiaguwen, tulisan Cina kuno di tulang dinasti Shang dan Zhou.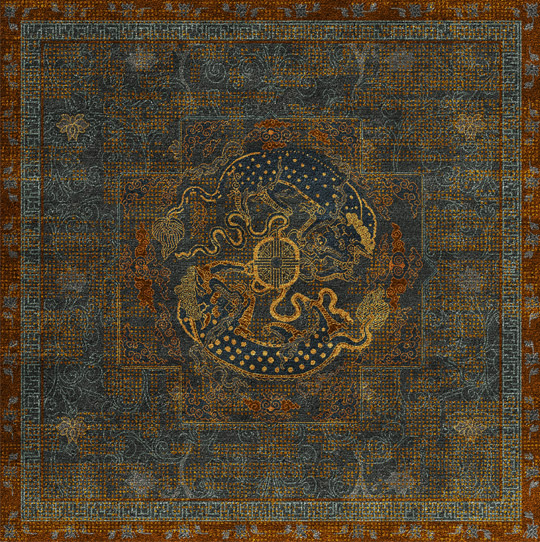 Foo Dog Dark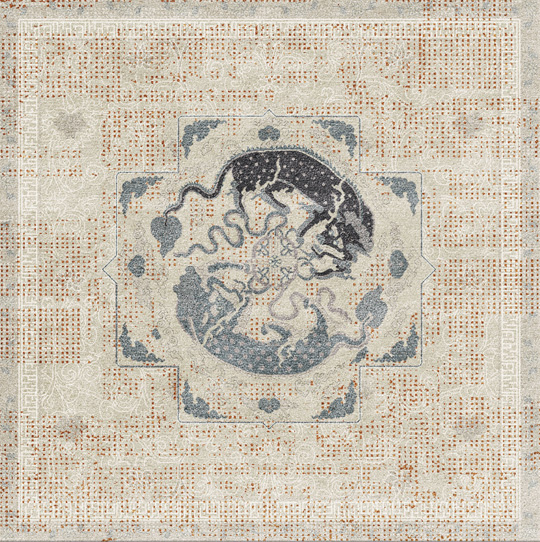 Foo Dog Light
Memperkuat intensitas pengaturan adalah penataan beberapa permadani secara vertikal yang dirancang oleh Nicola Gallizia. "Kursi berlengan empuk yang dipamerkan, ditutupi oleh permadani berkontur yang berharga, mengingatkan tradisi nomaden menggunakan permadani ini sebagai tempat duduk. Ditafsirkan kembali dalam peran saat ini yang sesuai dengan gaya hidup kita dan dalam konteks kemewahan dan kualitas tinggi," jelas sang desainer. (AP)


Meditation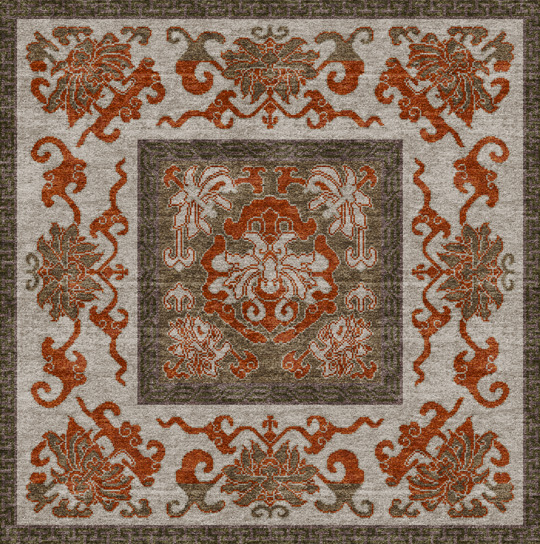 Meditation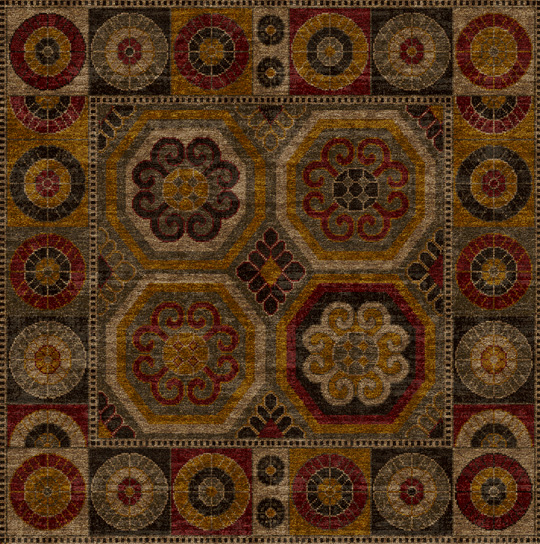 Meditation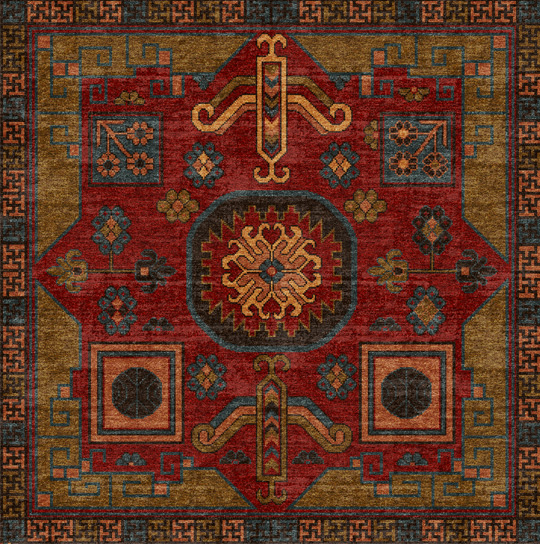 Meditation