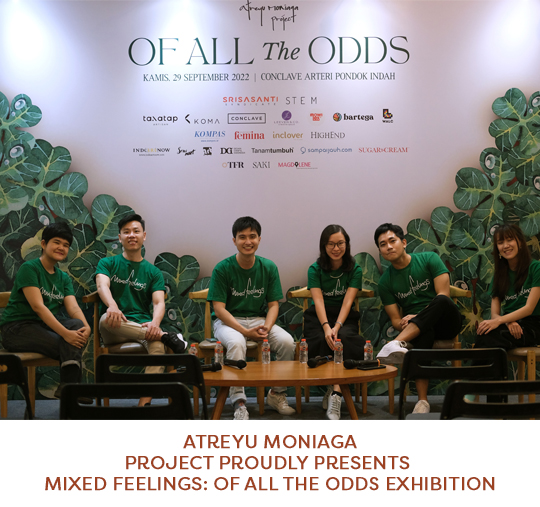 presented by
ATREYU MONIAGA PROJECT PROUDLY PRESENTS MIXED FEELINGS: OF ALL THE ODDS EXHIBITION
Published by Sugar & Cream, Wednesday 19 October 2022
Images courtesy of Atreyu Moniaga Project (AMP)
Display Works by Four Young Talented Artists
Atreyu Moniaga Project (AMP) once again manages a group exhibition to display artworks by participants of the sixth batch of Mixed Feelings – an incubation program! Pameran yang bertajuk "Mixed Feelings 05: Of All the Odds" ini akan diselenggarakan dari 21 Oktober  –  21 November 2022 di Galeri Srisasanti, Yogyakarta.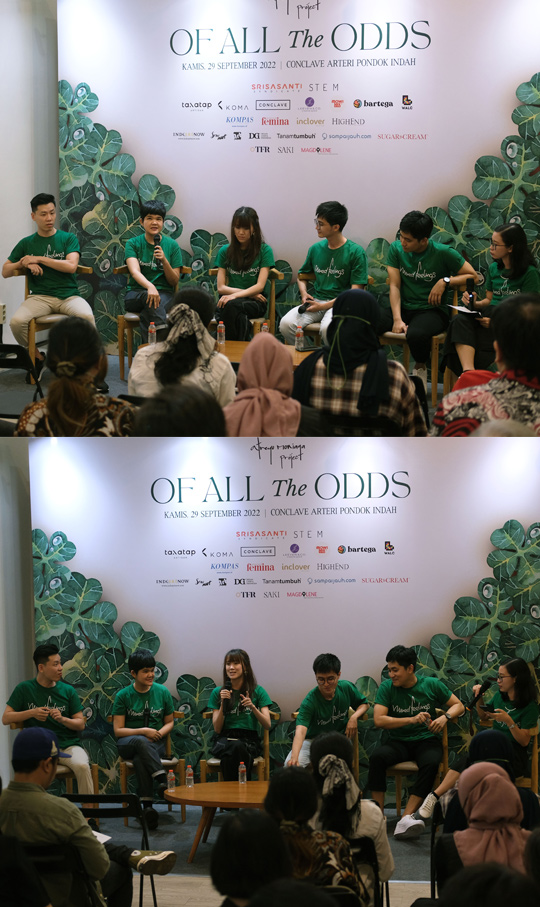 Pameran ini akan menampilkan karya – karya seniman muda berbakat seperti Adriel Ari, Yen Melia Andreas, Juju Sant, dan Karin Josephine.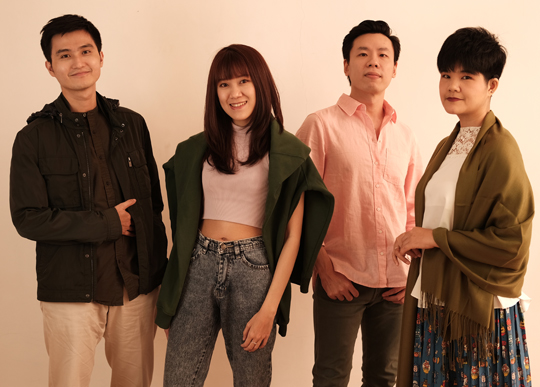 "Setelah istirahat selama hampir tiga tahun, saya memutuskan untuk menjalankan lagi program inkubasi yang kami sebut Mixed Feelings. Meskipun saya telah melalui banyak perkembangan pribadi sebagai seorang seniman, edisi terbaru Mixed Feelings ini juga mencapai tingkat kedewasaan baru yang pada akhirnya memengaruhi karya akhir para peserta. Mixed Feelings 05 dengan bangga memperkenalkan sekelompok seniman muda dengan tingkat kerja keras dan komitmen yang tinggi. Mereka dengan hati-hati mengungkapkan kecemasan dan harapan mereka, serta sudut pandang baru," ujar Atreyu Moniaga, mentor dan pendiri Atreyu Moniaga Project.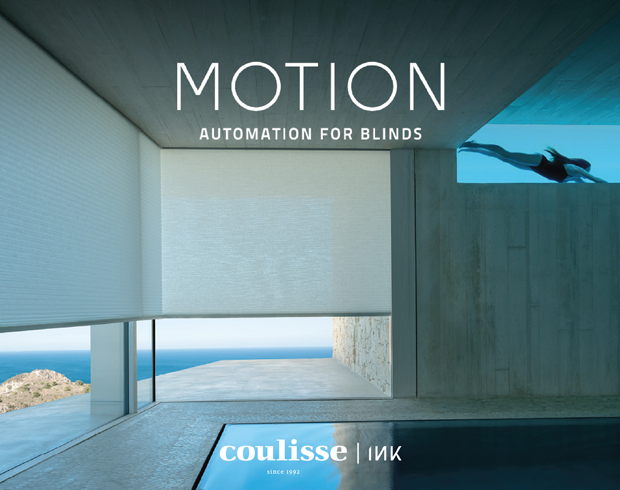 Presented by Coulisse | INK
Adriel Ari akan mempersembahkan "Mantra" dengan koleksi 12 lukisan yang menggunakan cat air. Yen Melia Andreas akan menampilkan "Yen Garden" dengan koleksi 15 lukisan menggunakan cat air. Untuk Juju Sant sendiri akan memamerkan "A Constant Battle Within" dengan koleksi 9 lukisan menggunakan cat minyak dan media campuran. Sedangkan, Karin Josephine akan menyuguhkan "Study of Self Composure 2", dengan kumpulan 44 karya kolase menggunakan media campuran, dikelompokkan menjadi 5 sub judul.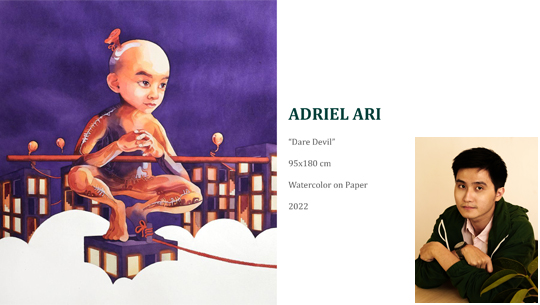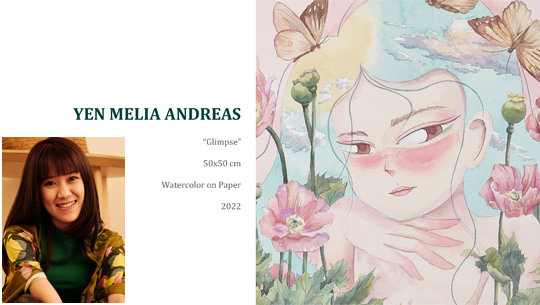 "Mixed Feelings 05: Of All the Odds" mendapat dukungan penuh dari Galeri Srisasanti, Yogyakarta. Direktur dan salah satu pendiri Galeri Srisasanti, Benedicto Audy menambahkan bahwa untuk pameran Mixed Feelings edisi mendatang dari Atreyu Moniaga Project (AMP) menjadi perwujudan dari semangat Galeri Srisasanti yang tiada henti untuk membina bakat-bakat baru dari dunia seni rupa Indonesia. Ini juga akan menjadi bukti kepercayaan seniman Atreyu, dalam proyek pendampingan bermotivasi sosial yang diprakarsai olehnya. Galeri Srisasanti sangat berharap dapat mengadakan pameran di ruang pamer di Yogyakarta, sehingga dapat memberikan banyak manfaat bagi para seniman dan pihak-pihak lain yang berpartisipasi.