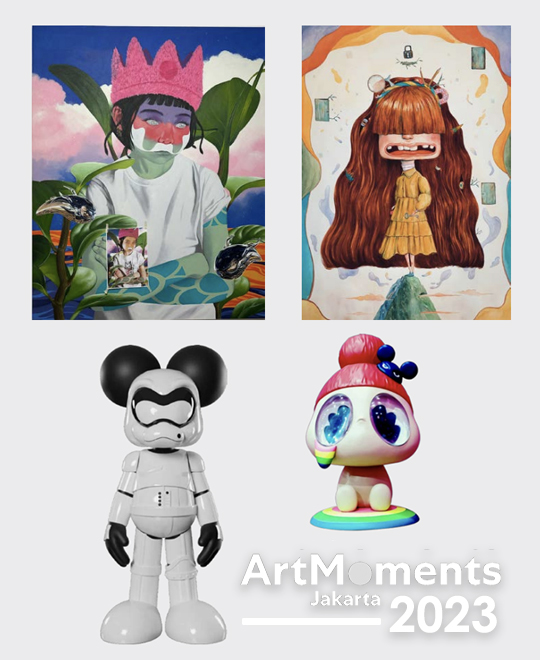 presented by
ARTMOMENTS JAKARTA 2023 OPENS ITS DOORS FOR THE ART COMMUNITY
Published by Sugar & Cream, Friday 15 September 2023
Images courtesy of ArtMoments Jakarta
The Sixth Edition of Art Moments Jakarta Features A Selection of Leading Galleries from Indonesia and Abroad
Edisi keenam dari ArtMoments Jakarta – pameran seni yang dinanti-nantikan ini  –  berlangsung dari 18 hingga 20 Agustus 2023 di Grand Ballroom Hotel Sheraton Grand Jakarta Gandaria City. Acara ini menampilkan 25 galeri seni nasional dan internasional yang terkemuka.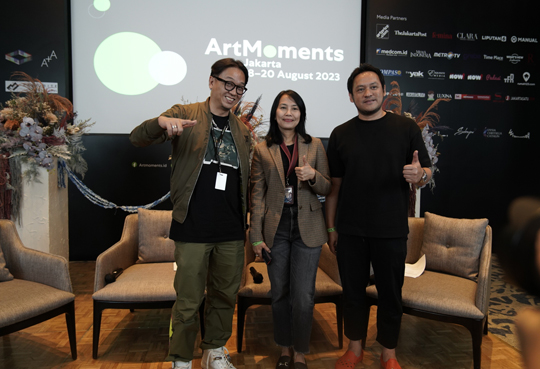 "Dengan hadirnya ArtMoments Jakarta pada tahun 2023, kami ingin mendorong kemajuan yang signifikan bagi industri seni Tanah Air. Kami berusaha untuk memperluas apresiasi seni serta merangsang dialog budaya yang kaya dengan menyajikan karya-karya berkualitas dari berbagai perspektif. Kami membuka jalan bagi lebih banyak pertumbuhan dan koneksi dalam lanskap kreatif dengan menjembatani interaksi antara seniman, kolektor, dan para pencinta seni," ujar Sendy Widjaja, Co-Founder dan Fair Director of ArtMoments Jakarta pada konferensi pers.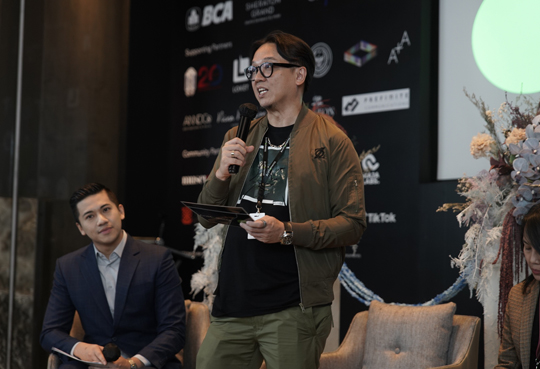 ArtMoments Jakarta 2023 dibuka pada 18 Agustus 2023, dihadiri oleh para media dan tamu VIP. Acara tersebut menampilkan upacara simbolis pemotongan bunga dan menampilkan instalasi "Perjalanan: Bunga yang Bercerita" karya flower artist terkenal Nina Nasution.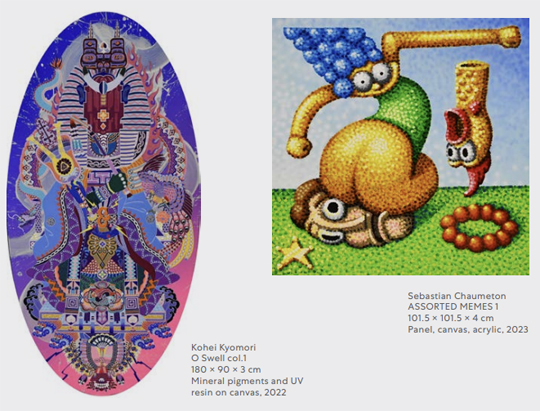 Whitestone Gallery
ArtMoments Jakarta menjadi annual event yang menampilkan karya seniman terkenal. Daftarnya yang menarik tahun ini adalah karya seniman Jepang Miwa Komatsu (di Whitestone Gallery), Arkiv Vilmansa (di G3N Project x Museum of Toys), seniman kontemporer Indonesia Eko Nugroho dan Heri Dono (di The Columns), Handiwirman (di Gajah Gallery), seniman Indonesia muda Laksamana Ryo (di Gallery Afternoon), dan pelukis abstrak Indonesia Erizal (di Gallery G3N x Museum of Toys).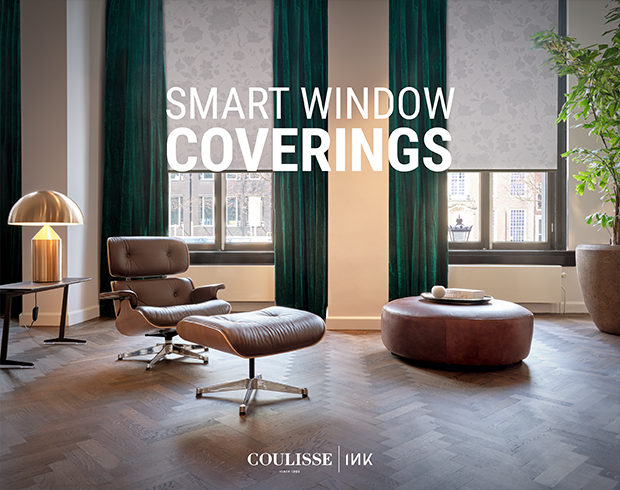 Presented by Coulisse | INK
Program publik ArtMoments Jakarta 2023 termasuk diskusi panel dan lokakarya (Converse Moments dan Maker Moments).  Dan, salah satu tujuan ArtMoments adalah untuk membuat pameran yang lebih inklusif dan bertanggung jawab secara sosial. Tahun ini, Maker Moments bekerja sama dengan Forum Keluarga Spesial Indonesia (FORKESI), dengan mengadakan lokakarya seni untuk anak-anak berkebutuhan khusus berusia antara delapan dan delapan belas tahun.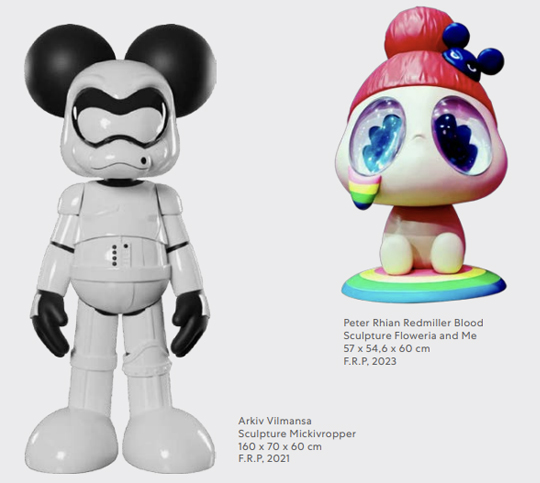 G3N Project x Museum of Toys
Program Maker Moments lainnya adalah lokakarya Plasticology yang diadakan oleh I Made Bayak, seorang seniman Bali dan aktivis lingkungan yang mengajarkan peserta bagaimana membuat karya seni dari limbah plastik.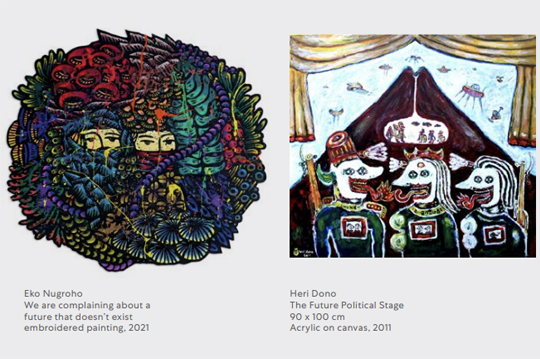 The Columns
Lelang amal tahunan di ArtMoments Jakarta menjadi program penting lainnya. Masterpiece, Mitra Lelang Resmi pameran, memimpin lelang tahun ini. Almarhum Leo Silitonga, salah satu pendiri ArtMoments Jakarta, memiliki koleksi seni terkenal yang dijual di lelang ini. Untuk menghormati warisan abadi Leo, lelang ini disumbangkan untuk program pendidikan anak Museum MACAN. Program tersebut telah merangkul banyak sekolah, guru, dan komunitas di seluruh negeri untuk membangun program pendidikan yang berfokus pada seni.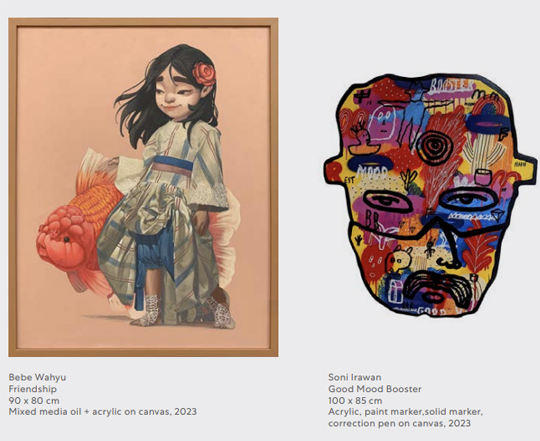 2Madison Gallery
Selama art fair ini berlangsung, Museum MACAN, yang juga merupakan Mitra Komunitas ArtMoments Jakarta 2023, membuka gerai pop-up yang menampilkan berbagai produk seni dan desain lokal, termasuk buku dan cinderamata seni dari museum di Jakarta Barat ini.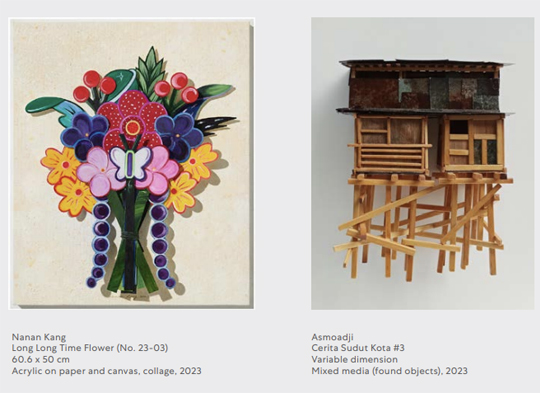 Baik Art Gallery