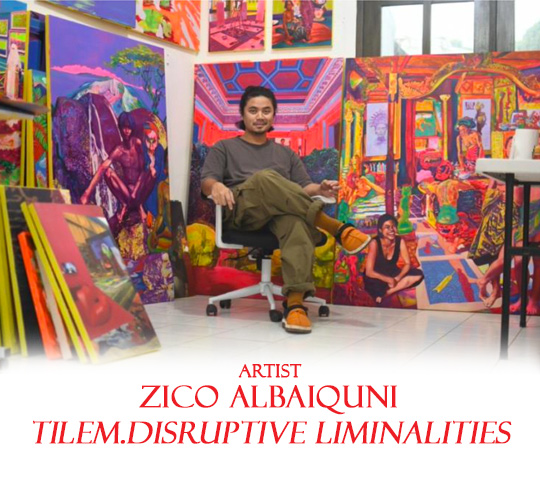 presented by

ARTIST ZICO ALBAIQUNI – TILEM.Disruptive Liminalities
Published by Sugar & Cream, Thursday 31 March 2022
Images courtesy of Yavuz Gallery
30 Maret- 8 Mei, 2022 – Space 8, ASHTA District 8, SCBD, Jakarta, Indonesia
A Solo Exhibition by Zico Albaiquni, Curated by Dr. Sadiah Boonstra
Yavuz Gallery dengan senang hati mempersembahkan Tilem. Disruptive Liminalities, sebuah pameran tunggal perdana di Jakarta, Indonesia, oleh Zico Albaiquni. Ditampilkan di tempat multifungsi baru, yaitu Spac8 (baca: space 8) di ASHTA District 8, Jakarta, pameran ini akan memperlihatkan kekaryaan baru dari seniman yang berasal dari Bandung,yang menyoroti dan mengartikulasikan hierarki dan binari kolonialitas, berkaitan dengan kanon sejarah seni rupa Indonesia.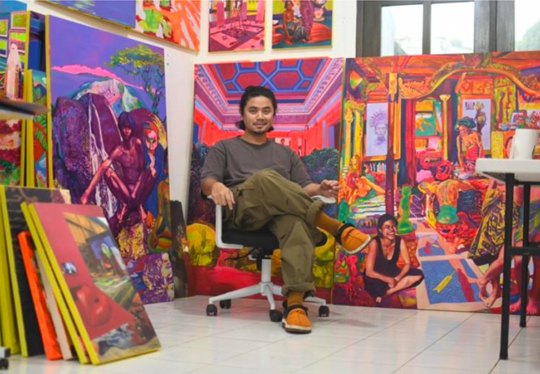 Zico Albaiquni
Di dunia yang mengalami pergeseran struktur kekuatan global dan meningkatnya gerakan sosial politik, berbagai cerita mengenai warisan rasisme sistematis dan bentuk ketidaksetaraan mulai terungkap. Praktik kekaryaan Zico berfungsi sebagai indeks paska-kolonial untuk memanfaatkan sejarah sebagai alat untuk mengisolasi dan menyoroti seni rupa Indonesia dari kacamata kolonialisme.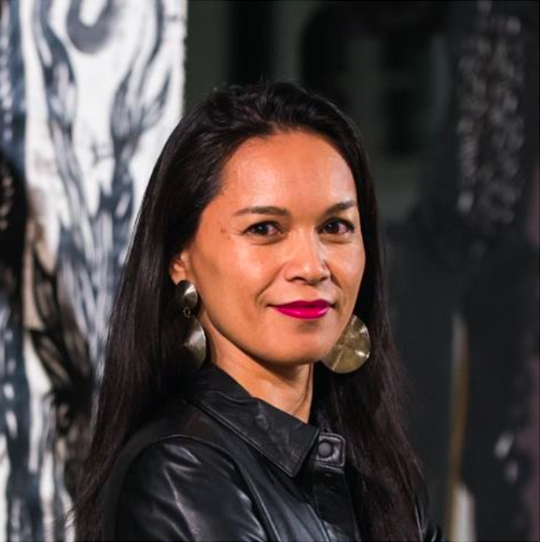 Dr. Sadiah Boonstra
Dikenal dengan palet warnanya yang terang serta menguji hegemoni narasi akan representasi dan interpretasi, dalam Tilem. Disruptive Liminalities, karya-karya Zico merujuk pada seni rupa Indonesia dengan praktik dan mahzabnya, serta nilai-nilai dan spiritualitas Sunda. Zico mendekonstruksi dan membongkar artistik seni rupa dan praktik kepameranan internasional melalui komposisi dan proses unik image-making-nya. Ia melakukan tumpukan pada gambar-gambar arsip imperial dan melakukan re-imajinasi narasi Indonesia.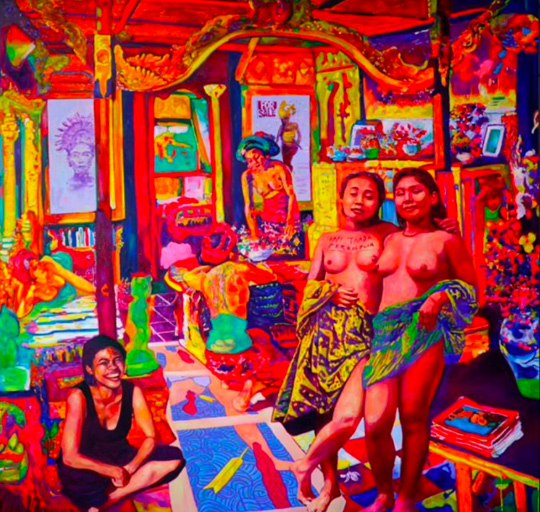 Seringnya merujuk pada seni rupa dan seniman Indonesia telah menjadi ciri khas pada pratik kekaryaan Zico. Kekaguman Zico pada Jeprut, sebuah gerakan seni performans asal Bandung, terlihat jelas pada karya-karya ini yang berfungsi sebagai bentuk penghormatan kepada seniman terdahulu yang menantang status quo.
Pameran ini dapat dilihat sebagai sebuah proses untuk menyembuhkan luka kolonial dengan membongkar praktik dan struktur yang lampau. Karya-karya terbaru ini yang mengedepankan praktik dan sejarah seni rupa Indonesia dan nilai-nilai kesundaan, membukakan arah yang baru dan yang kurang terjelajahi. Karya-karya ini pula dapat dilihat sebagai liminalitas yang memungkinkan pembacaan yang berbeda dari masa lalu dan memberikan visi untuk masa depan yang mungkin lebih setara.


Presented by Interni Cipta Selaras
Zico Albaiquni (lahir 1987, Indonesia) meraih gelar MA dan BFA dari Institut Teknologi Bandung, Indonesia. Ia telah melakukan pameran secara luas di Indonesia, serta di Australia, Italia, Perancis, Austria, Belanda, Hong Kong, dan Singapura.
Pameran yang dikurasi terbaru meliputi: On the Nature of Botanical Gardens, Framer Framed, Netherlands (2019), Contemporary Worlds: Indonesia, the National Gallery of Australia (2019),  9th Asia Pacific Triennial of Contemporary Art, Queensland Art Gallery | Gallery of Modern Art, Australia (2018-19), dan JAVA – Art Energy, Institut des Cultures d'Islam, France (2018). Ia merupakan finalis dari The 2nd Bandung Contemporary Art Award (2012), Soemardja Award (2012) dan Asia Award, Tokyo DesignWeek (2015). Pada tahun 2015, Zico diberikan penghargaan residensi Bundesministerium für Unterricht, Kunst und Kultur (Ministry of Education, Art and Culture, Austria), yang menghasilkan dua pameran tunggal di ibukota Wina. Karya Zico telah dikoleksi oleh Austria) Residency, resulting in two solo shows in the capital city of Vienna. Albaiquni is collected by the Queensland Art Gallery | Gallery of Modern Art (Australia), National Gallery of Australia, Singapore Art Museum, Museum MACAN (Indonesia), Bega Valley Regional Gallery (Australia) and the Tropenmuseum (Netherlands).(2019).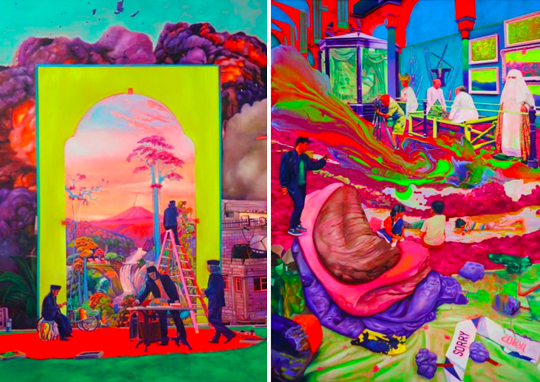 Dr. Sadiah Boonstra merupakan kurator independen dan sejarawan budaya yang berbasis di Jakarta, Indonesia. Ia juga peneliti pasca-doktoral dalam program penelitian Pressing Matter: Ownership, Value and the Question of Colonial Heritage in Museums di VU University Amsterdam dan Honorary Fellow di Melbourne University. Sadiah menggabungkan karya kuratorial dan akademiknya dengan membuat program publik dan memproduksi seni pertunjukan. Sebelumnya Sadiah mengkurasi pameran antara lain di Framer Framed (Amsterdam), Galeri Nasional (Jakarta), Erasmus Huis (Jakarta), British Museum (London), dan Tropenmuseum (Amsterdam).