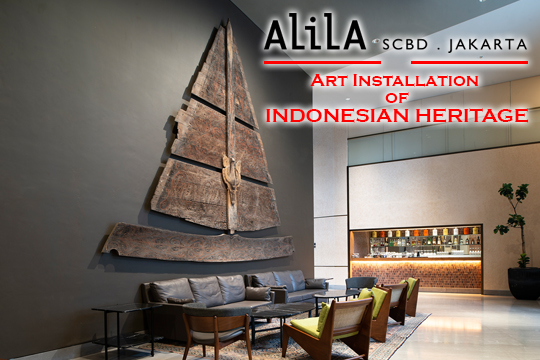 presented by

Alila SCBD – Art Installation of Indonesian Heritage
Published by Sugar & Cream, Tuesday 20 August 2019
Text by Dinda Bestari, images courtesy of Alila SCBD
Heritage Art Pieces and Cultural Artefacts at Artisian Bar, Alila SCBD
Seni menjadi bagian terpenting dalam lingkungan kosmopolitan dan modern di Alila SCBD. Coba tengok area pintu masuk dan lobi hotel baru ini.  Anda disambut deretan karya seni pusaka serta artefak budaya yang menghiasi Artisian Bar di hotel.
Terletak di sebelah lobi di lantai dasar, langit – langitnya yang tinggi dan perabotan modern Artisian Bar menghadirkan ambience ­dan homey yang berfungsi untuk acara-acara kreatif ataupun pertemuan komunitas lainnya. Suasana berbeda karena dikelilingi oleh koleksi seni curated dari warisan artistik dari budaya asli daerah di seluruh Indonesia.
Semua karya seni di Artisan Bar ini adalah bagian dari koleksi pribadi dan sebagian besar berasal dari abad ke-19, dan berumur sekitar 70-100 tahun. Antara lain:
Chicken Pair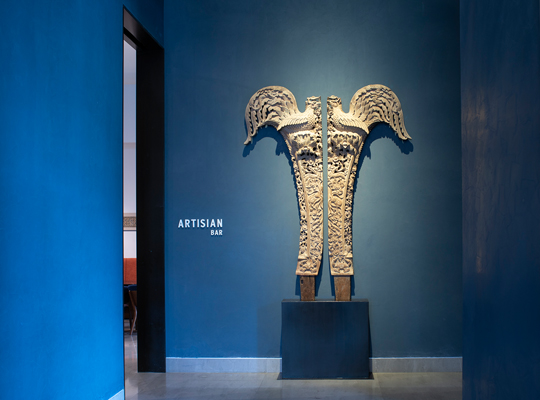 AJS – Chicken Pair

Terletak di pintu masuk Artisian Bar, karya seni antik ini menampilkan sepasang ayam yang berasal dari pulau Madura, yang letaknya di utara Surabaya. Karya ini pernah menjadi bagian dari dekorasi di belakang kapal pada abad ke-19. Dalam kebudayaan tradisional Madura, ayam merupakan simbol ketekunan, kerja keras dan kegigihan.
Toraja House Art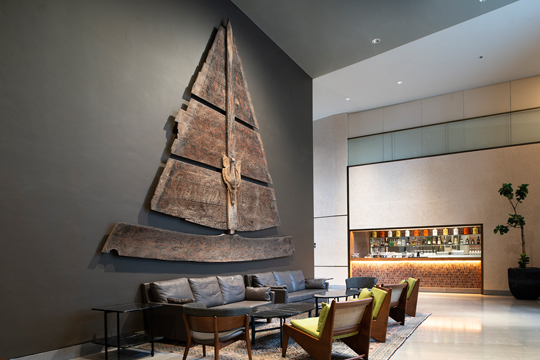 AJS- Toraja House Art
Bangunan besar, kayu, berbentuk segitiga ini adalah ciri khas bagian depan rumah tradisional Toraja. Toraja adalah kelompok etnis dari Kabupaten Tana Toraja, yang biasa disebut sebagai 'Tator' atau 'Tanah Toraja', sebuah dataran tinggi suku di Sulawesi Selatan, yang letaknya 315 km di utara Makasar.
Hanging Tenun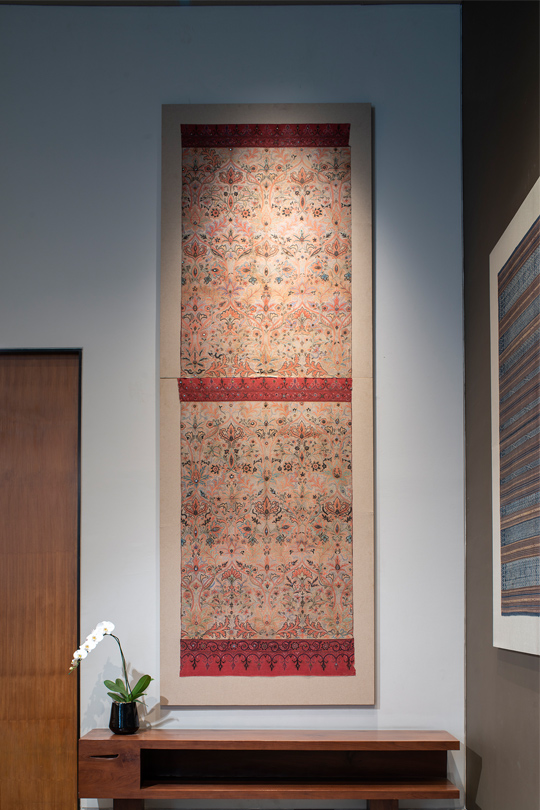 AJS – Hanging Tenun (Palembnag)
Koleksi tiga kain tenun tradisional (tenun) yang digantung di dinding, menampilkan pola tekstil unik untuk berbagai wilayah di Indonesia. Mereka termasuk kain dari Palembang, Sumatera Selatan, yang terinspirasi oleh pola Cina dan India, dan dua potong dari pulau Flores di Nusa Tenggara Timur, yang merupakan khas dari kain tenun tradisional yang dipakai di seluruh wilayah ini dan pada semua acara budaya, seperti kelahiran, pernikahan, dan upacara pemakaman.
Indonesian Dance Masks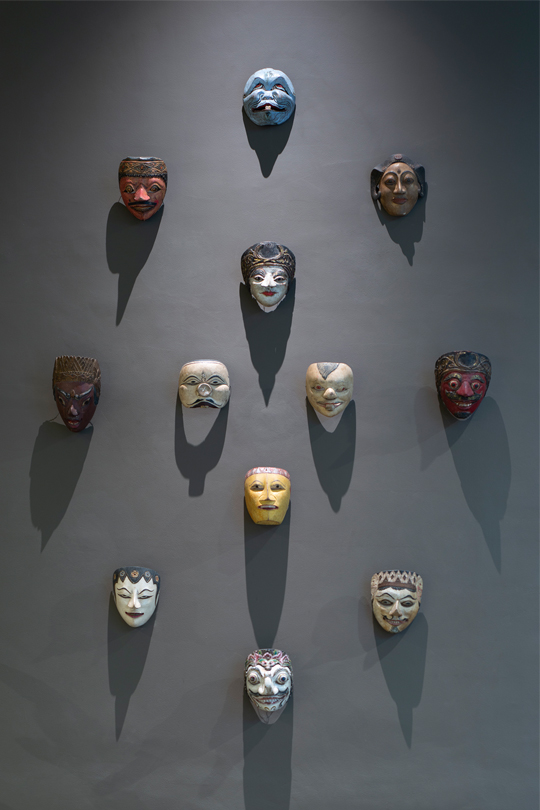 AJS – Indonesian Dance Masks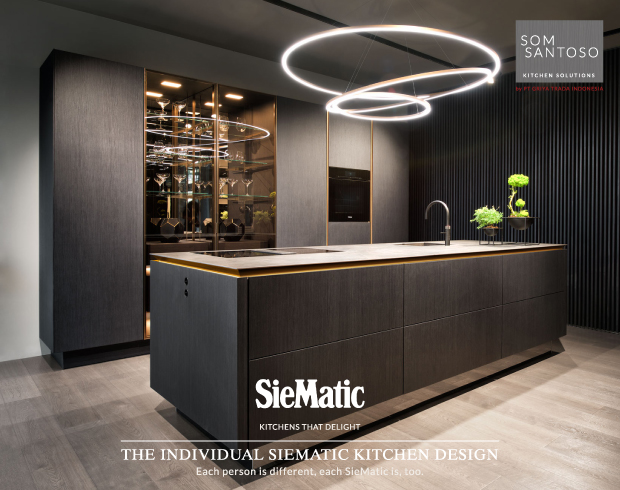 Presented by Som Santoso
Koleksi topeng tari Indonesia sebagian besar koleksinya berasal dari Jawa dan Bali. Karena di kedua wilayah ini mereka masih melakukan tarian topeng tradisional. Topeng tradisional ini mewakili alam atau roh leluhur masyarakat setempat dan topeng-topeng ini berasal dari kayu diukir lalu dicat.
The Octopus and Ferns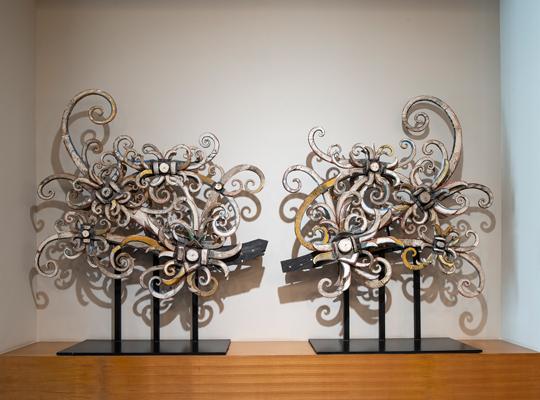 AJS – The Octopus and Ferns
Ukiran kayu gurita dan pakis yang rumit ini melambangkan hubungan yang terjalin dan harmoni. Berasal dari Suku Dayak di Kalimantan, bagian ini sebenarnya merupakan bagian dari gerbang dermaga kapal pada abad ke-19.
Ceremonial Shields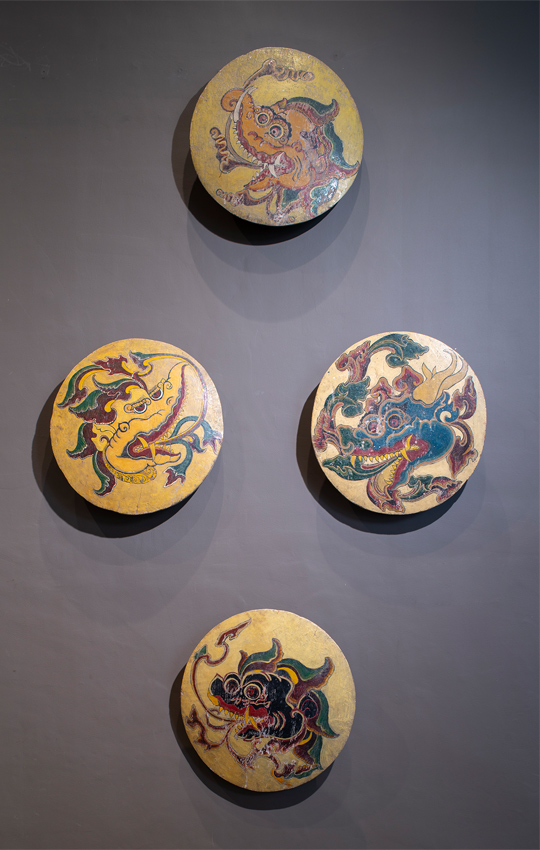 AJS – Ceremonial Shields
Keempat perisai upacara yang menghiasi satu dinding Artisian Bar ini berasal dari koleksi ratusan perisai upacara tradisional dari Cirebon, Jawa Barat. Desain dan bentuk mereka dipengaruhi oleh warna dan pola Indo-Cina. Sisa koleksi dimiliki oleh museum seni dan kolektor seni.
Untuk informasi lebih lanjut, hubungi melalui email di scbd@alilahotels.com