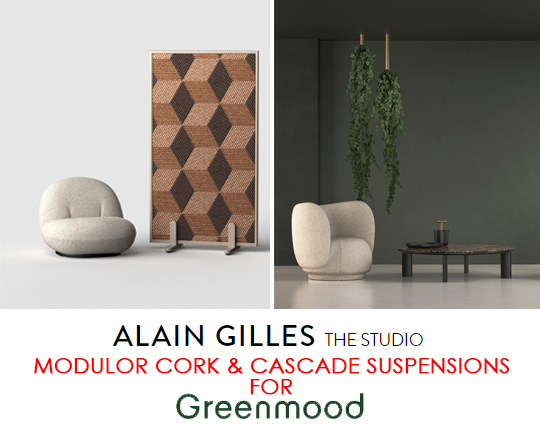 presented by
ALAIN GILES: MODULOR CORK & CASCADE SUSPENSIONS FOR GREENMOOD
Published by Sugar & Cream, Monday 26 June 2023
Images courtesy of Alain Giles
Exploring the Possibilities of Biophilic Design
What is biophilic design? Quoted from Wikipedia, Biophilic design is a concept used within the building industry to increase occupant connectivity to the natural environment through the use of direct nature, indirect nature, and space and place conditions. Used at both the building and city-scale, it is argued that this idea has health, environmental, and economic benefits for building occupants and urban environments, with few drawbacks.
Designer Alain Giles revealed two new products at NeoCon in Chicago this June 2023: Modulor Cork Screens & Cascade Suspensions for Greenmood. These two new collections are part of the designer's exploration on the current issue of Biophilic Design.
MODULOR CORK – Movable Biophilic Screens
With the cork version of our Modulor screens for Greenmood we are delving deeper into the possibilities offered by biophilic materials and further pushing ahead with the logic of biophilic design.  While the original version of the Modulor screens is covered in natural preserved plants with high acoustic properties, in this case we are using cork, the bark of the tree, and playing with cork in a graphic and textured manner.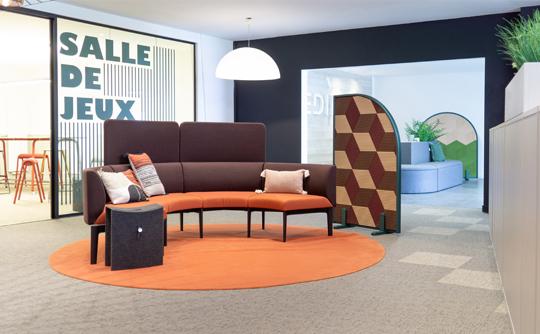 These Modulor screens allow people to arrange and rearrange their space over time and bring in natural elements at the same time!  The screens comprise a double-sided acoustic room divider, composed of two panels made of cork and connected to a free-standing metal structure. They are available in 3 models and 2 sizes. Each unit can easily be moved thanks to the concealed wheels.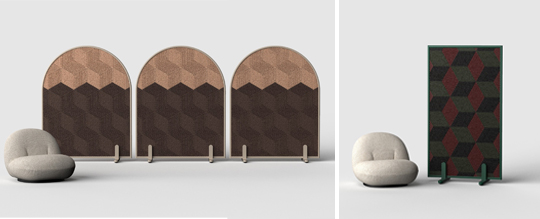 They offer a large array of graphic possibilities, with some versions designed to liven up a space with colourful 3D patterns, while other versions exude calm and a soothing feeling in a room with natural tones and plain patterns. The collection offers 7 possible cork patterns that can be combined with multiple colours of cork, an assortment of colours of metal frames and 6 different screen designs. This provides a lot of different options for customisation!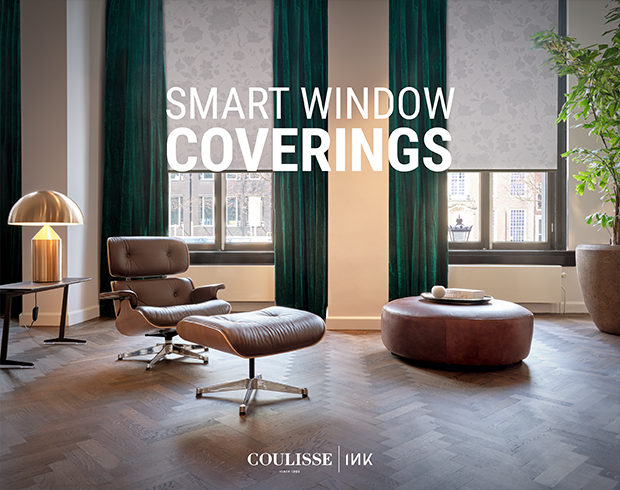 Presented by Coulisse | INK
A combination of different Modulor screens can be used to create partitions of various lengths and heights to transform a room into a flexible "agile" space that can be configured to your personal needs and add a touch of biophilia.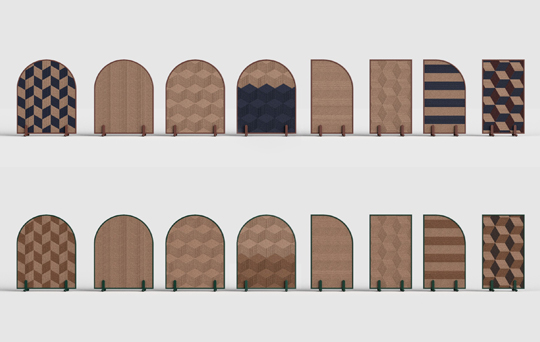 CASCADE – Innovative Biophilic Concept
The Cascade concept for Greenmood is a study of how plants can be used and hung in a space in a new way. It is a tool for architects that allows them to play with plants in new and innovative ways, and to create spaces that incorporate more biophilic elements to improve the well-being of the people who live in and use the space.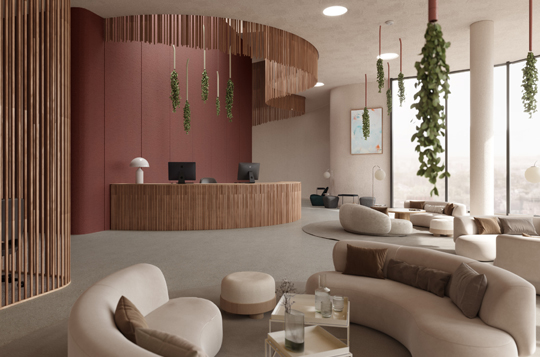 The concept takes inspiration from the natural world, from the many plants that fall from the treetops in dense jungles or from balconies in more exotic locations. Inspiration is also taken from elements of architectural lighting, such as suspension lights either used individually or in a larger setting of multiple elements hung at different heights to create Cascade-like effects.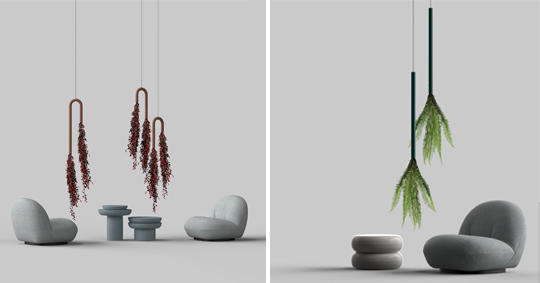 The collection includes three different models. A straight, minimalist version with a highly architectural feel that can be suspended or fixed directly to the ceiling when needed. A slightly curved option with a subtle and natural feel inspired by broken tree branches. And last but not least, a very expressive U-shape that has more visual impact and offers the possibility of hanging two plants side by side at different heights on the same suspension.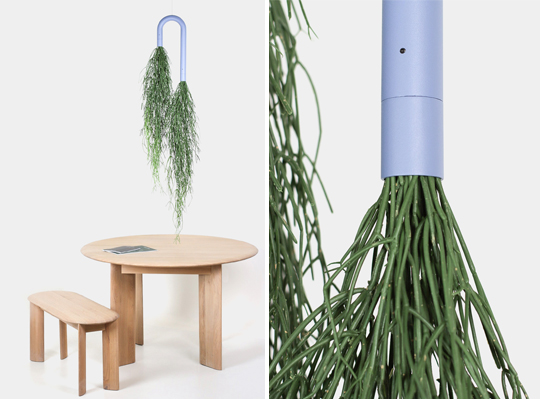 Since the plants are hanging, they can be placed higher than if they were in a planter resting on the floor, thus showcasing their full visual appeal and taking up less space on the ground. They can also be used to structure a room when hung together in a row, creating a screen of greenery between different sections of a room. Just like large modern chandeliers, they can also be hung over a table or sitting area in rooms with high ceilings, or used to bring greenery to the center of a large staircase or atrium.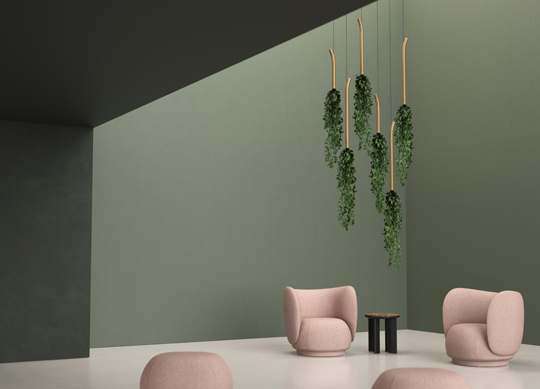 They are mainly available in two different heights to allow the creation of dynamic installations, and in a wide range of colors. All can be combined with a wide range of high-end artificial plants to create rich and varied interiors.