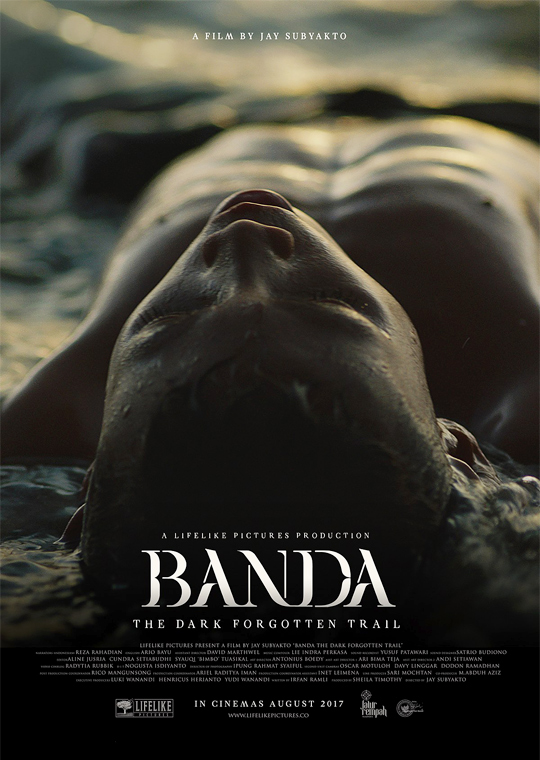 A Romantic Retrace of Run and Manhattan
Published by Sugar & Cream, Thursday 03 August 2017
Text by Lynda Ibrahim, Images courtesy of Median Publicist
Movie  – 'Banda: The Dark Forgotten Trail'
Sometimes we learn about our history from other people. Years ago at an International Finance class in an American business school I learned about a piece of our history that I'd never heard before.
Yes, our history textbooks mentioned that this archipelago was one of the most coveted destinations during 17th-18th century spice trade. Yes, the textbooks spoke about Europeans that had set foot and tried, some with success, to colonialize parts of Nusantara.
But no, our textbooks said nothing about nutmeg-producing islets named Run and Ay that were England's first colonies in the region and included in the official title of King James I as "Poolarun" and "Pooloway". And no, our textbooks also said nothing about England swapping the islets with a Dutch's colony named Nieuw Amsterdam, which is now called Manhattan.
It took me years to come across books that spoke about this, and even longer to finally reach Banda islands in the Moluccas, where Run and Ay were situated. Three years after my 2014 trip to Banda, and three-hundred-and-fifty years after 1667 Breda Treaty between England and the Netherlands, Indonesian filmmakers finally retraced and retold the history. Thank God they did.
Banda: The Dark Forgotten Trail is a documentary delivered in the signature style of its director, Jay Subyakto, known for music and fashion motion pictures. Artistic visuals, often nuanced with dramatic music while the screen taking a big sweep, provide their own narratives. Rather similar to the dramatized historical series on National Geography, only with fewer actors in period costumes and freer rein on the romantic flair department. I personally loved how details of antique edifices, some of which I'd seen and posted on Instagram during my Banda trip, made it to the movie.
As far as historical accounts were concerned, the movie did a good job in presenting and putting them into context, with credits go to the historians featured throughout the movie.
What's more interesting, though, is how the movie chose to cast a spotlight on Banda's multicultural heritage, pointing at, among others, how Indonesia's future founding father Moehammad Hatta, exiled there by Dutch colonialists, was so smitten by its religious and racial diversity that he saw it as a model for a larger Indonesia. Was Banda that unique in that sense? Frankly, most centuries-old seaports around Nusantara tended to be a melting pot, yet I understand the golden opportunity to use Banda's particular brushes with world history to show how our ancestors had already adopted an open mind long before the country was even founded.
Free trade is not a new concept, shown by indigenous Banda folks' acceptance of fair foreign traders and their resistance against the Dutch who pushed for monopoly. Religious tolerance is not a new practice, for mosques in Banda feature Chinese dragons and flags while costume of native dancers are inscribed with Confucian, Muslim and European symbols.
If you ponder further, the glaring difference today between the swapped islands actually says the best. Once a harshly cold island with dim prospects, Manhattan is now home to the world's most prominent stock exchange and cosmopolitan society precisely because it welcomed foreigners; whereas once coveted Run and Ay are now sleepy islets far in Indonesia's deepest sea because they never diversified once spice was no longer the global game.
That it took 350 years since the treaty or weeks before the country's 72nd anniversary to teach Indonesians of this fact, it's kind of sad. But at the very least, you wouldn't need to be lectured about it at a classroom halfway across the world. All you need is to walk to the nearest movie theatre room. For this lesson and romantic visuals alone, Banda: The Dark Forgotten Trail is worth to watch. For deeper knowledge, I recommend reading Sejarah Banda Naira (Des Alwi, 2006), Nathaniel's Nutmeg (Giles Milton, 1999) and Conquerors: How Portugal Forged the First Global Empire (Roger Crowley, 2015).
Sweet and sour Banda. Foregone by the Europeans first, God forbid they should be forgotten by us twice.