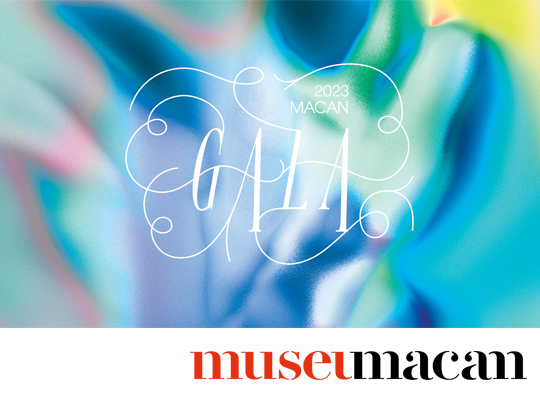 presented by

2023 MACAN GALA AT THE ST. REGIS JAKARTA
Published by Sugar & Cream, Tuesday 12 September 2023
Images courtesy of Museum MACAN
Celebrates Arts and Culture to change Times Ahead of the Young Generation Through Art Education
Taking place at The St. Regis Jakarta, Indonesia's largest annual fundraising event for the arts returns with a charity auction featuring artworks by Indonesia's leading artists. Proceeds will support the museum's education and community enrichment programs.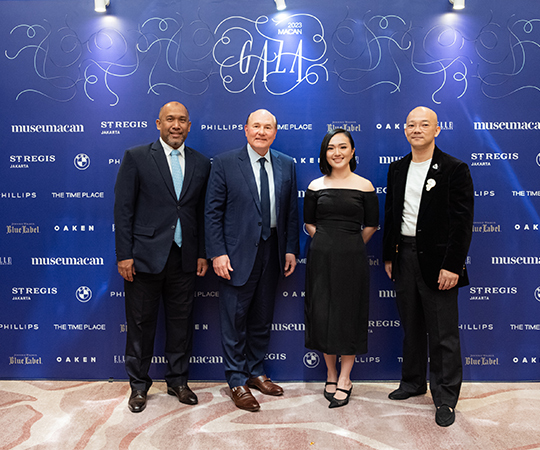 Left to right : Ariefin Makaminan, Mark Lettenbichler, Fenessa Adikoesoemo, Aaron Seeto. Image courtesy of Museum MACAN

Museum MACAN presents the 2023 MACAN Gala – an annual celebration of art and culture that brings together Indonesia's leading cultural philanthropists, collectors, and artists, in support of Museum MACAN's education and community enrichment programs. This year, the Gala will be held at The St. Regis Jakarta on Friday, 25 August 2023.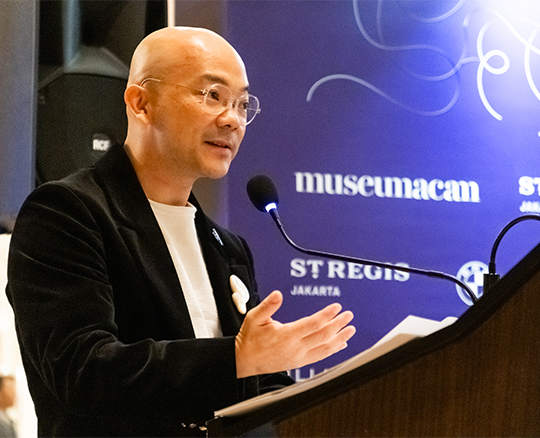 Aaron Seeto, Director, Museum MACAN
Since 2019, the MACAN Gala has been raising funds through a charity auction, conducted by leading auctioneer, Phillips. Sandy Ma, International Specialist, Associate Director for 20th Century & Contemporary Art, will once again lead an auction with works by some of Indonesia's and Southeast Asia's leading artists. The auction line-up includes works by Agung Kurniawan, Alexander Sebastianus Hartanto, FX Harsono, Goenawan Mohamad, Hendrik Paulides, Irfan Hendrian, Isabel and Alfredo Aquilizan, Jumaadi, Sunaryo; and a Fendi Medium Baguette Bag painted by I Putu Adi Suanjaya (Kencut).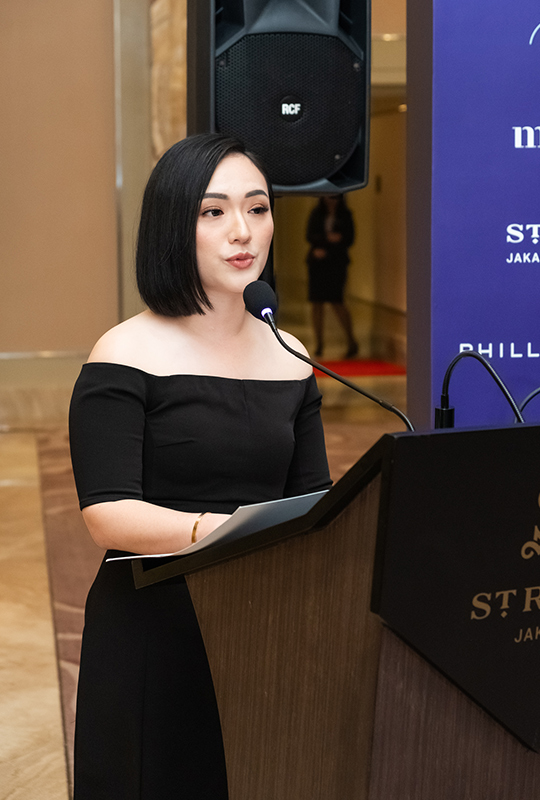 Fenessa Adikoesoemo, Chairwoman, Museum MACAN Foundation
Proceeds from the Gala will support Museum MACAN's education and community enrichment programs, including school outreach programs, visits for school children from diverse social and economic backgrounds, art-making workshops, talks, lecturers, and film screenings.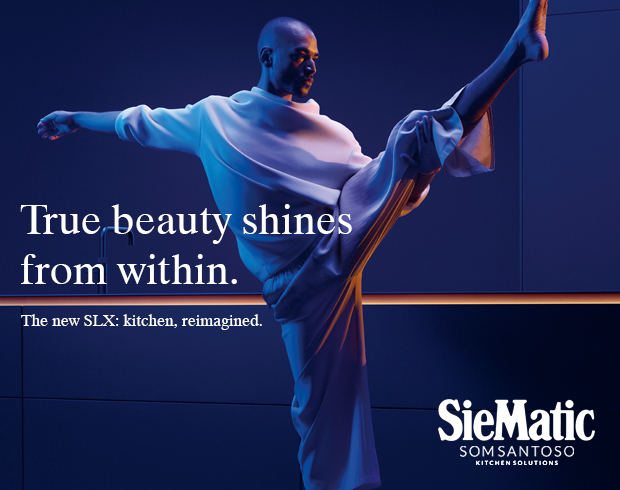 Presented by Som Santoso
Set in the sumptuous surroundings of the Astor Ballroom, the Gala guests will dress whimsically according to this year's theme and dress code. They will be treated with a dinner prepared by The St. Regis Jakarta.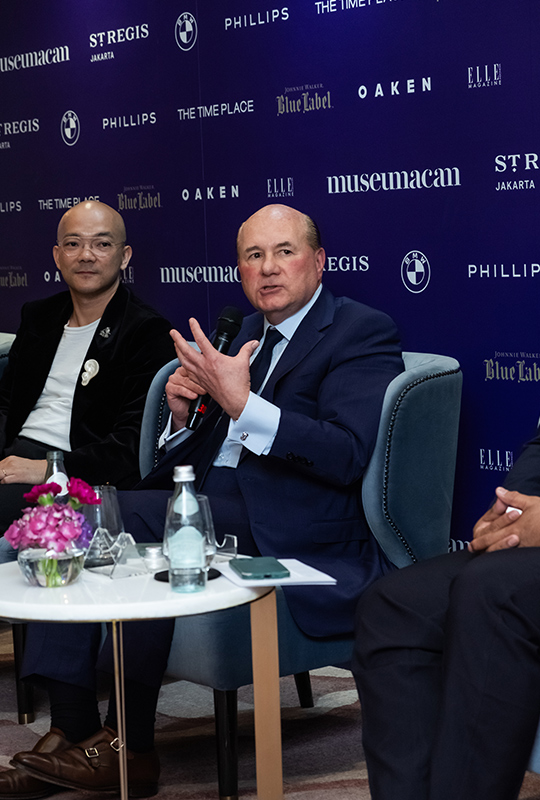 Mark Lettenbichler, General Manager, The St. Regis Jakarta
Fennessa Adikoesoemo, Chairwoman of Museum MACAN Foundation, said, "The Museum MACAN Foundation strives to enrich the lives of young people through meaningful exposure and introduction to art. Since 2017, Museum MACAN's education program has transformed the art education landscape in Indonesia. This can be seen, not only in the numbers of students engaging with our programs across the country, but also in the growing network of teachers involved in our programs. The educational resources that we produce are developed to integrate into the Indonesian education syllabus."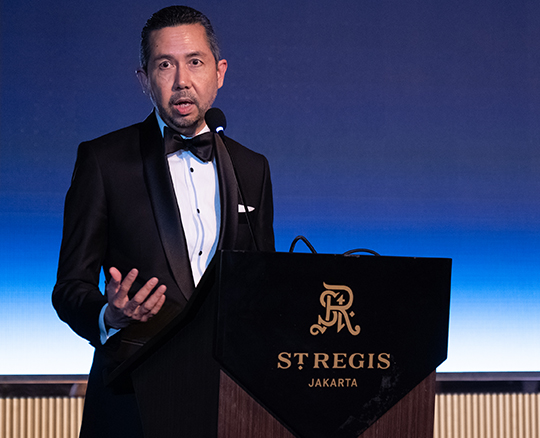 Ramesh Divyanathan, President Director, BMW Group Indonesia

Since 2017 Museum MACAN have welcomed more than 900,000 visitors, including 272,000 students and children. The museum team has worked with 736 schools and 3,162 educators from 23 provinces across Indonesia through offline and online outreach initiatives.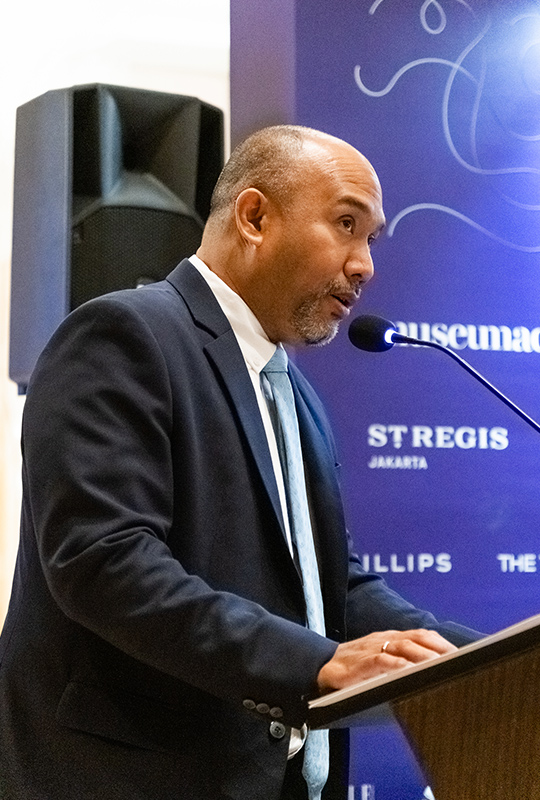 Ariefin Makaminan, Vice President Customer Support BMW Group Indonesia
"We're grateful for the ongoing support from our patrons, partners, and sponsors, who make all of these initiatives possible, and we look forward to continuing this mission to transform the futures of thousands of young people through art," said Fennessa Adikoesoemo.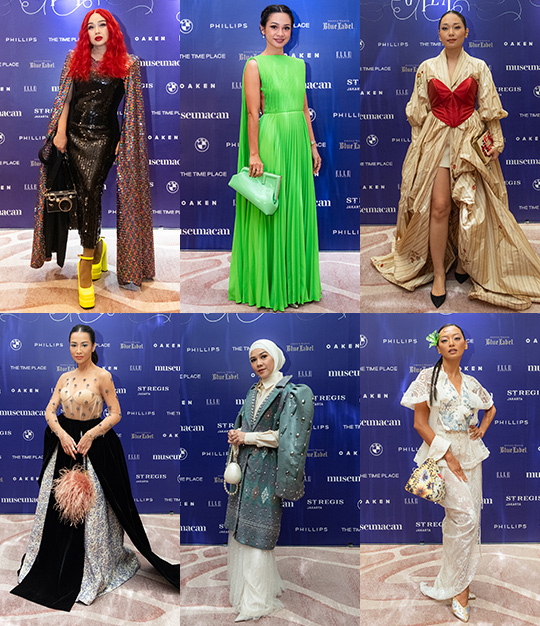 Titi DJ | Andien | Ayla Dimitri | Michelle Maryam | Dewi Ivo | Asmara Abigail

Aaron Seeto, Director of Museum MACAN, said, "The MACAN Gala helps us to expand opportunities for children across the social and economic spectrum to engage with the transformative potential of art. We know that art education is a powerful vehicle to develop critical thinking and creative problem-solving skills–it sparks the imagination, expands a child's understanding of the world, and offers tools to support empathy and tolerance. Building upon the work we have achieved over the last six years, Museum MACAN has a great ambition to expand upon this work, and to ensure that economic and social disadvantage is not a barrier to accessing art education in Jakarta. Our Gala brings together Indonesia's art world and its philanthropists in support of this mission."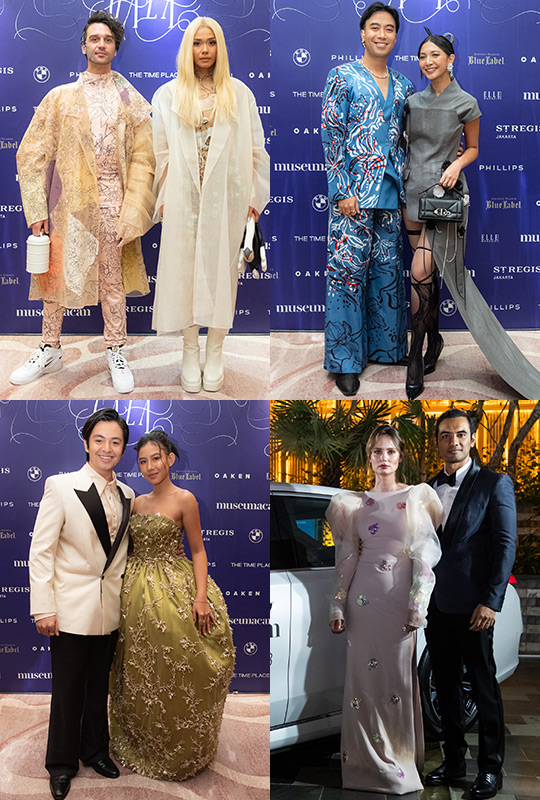 Michael Wahr and Adinia Wirasti | Vidi Aldiano and Sheila Dara Aishal | Angga Yunanda and Shenina Cinnamon | Valentine Payen-Wicaksono and Ario Bayu

Mark Lettenbichler, General Manager of The St. Regis Jakarta, said, "The St. Regis Jakarta is proud to support the 2023 MACAN Gala as the leading art fundraising event to make a significant impact on the cultural life in Indonesia through international exhibitions, public programs, exciting education activities, and making art accessible for thousands of young people.
This initiative is aligned with our vision as the cultural theatre, which features collaborations with the next generation of Indonesian artists. We hope that this highly anticipated celebration will generate positive influence to the community to appreciate and find inspiration in arts."
Ramesh Divyanathan, President Director BMW Group Indonesia, said, "BMW Group continues to embrace its social responsibilities through cultural engagement and is actively involved in projects across the globe. Over more than 50 years, we have set up in excess of 100 long-term initiatives in modern and contemporary art, classical music, jazz, sound, architecture, and design. BMW Indonesia is delighted to extend our partnership, which began in 2018, by serving as the main sponsor of the Macan Gala 2023. We share the same vision with MACAN of providing greater access to top-quality education in the arts for Indonesian youth and are equally committed to Social Sustainability."
2023 MACAN Gala will open with a red carpet arrival from 18:30 WIB at The St. Regis Jakarta, which will include The 2023 MACAN Gala ambassadors and celebrities: Adinia Wirasti and Michael Wahr, Andien, Andini Effendi, Ario Bayu and Valentine Payen-Wicaksono, Asmara Abigail, Ayla Dimitri, Angga Yunanda, Axton Salim, Dewi Ivo, Harry Halim, Michelle Maryam, Neysa Soediro, Omar Daniel, Siti Ruby Aliya Rajasa, Shenina Cinnamon, Titi DJ, Titi Radjo Padmaja, Vidi Aldiano and Sheila Dara Aisha.
Follow the latest updates on Museum MACAN via www.museummacan.org and social media platforms (Instagram | Facebook | Twitter | TikTok | YouTube).